If you love figure skating, you will love this list of must-read figure skating autobiographies.
Step into the personal journeys of figure skating champions and experience the trials, triumphs, and unforgettable moments that shaped their lives.
In this captivating list, we'll explore the the best memoirs written by figure skaters themselves.
These intimate accounts provide a glimpse behind the glittering costumes, showcasing the dedication, sacrifices, and sheer determination required to excel in this demanding sport.
Get ready to be inspired and moved by these extraordinary stories of resilience, passion, and the unwavering pursuit of dreams.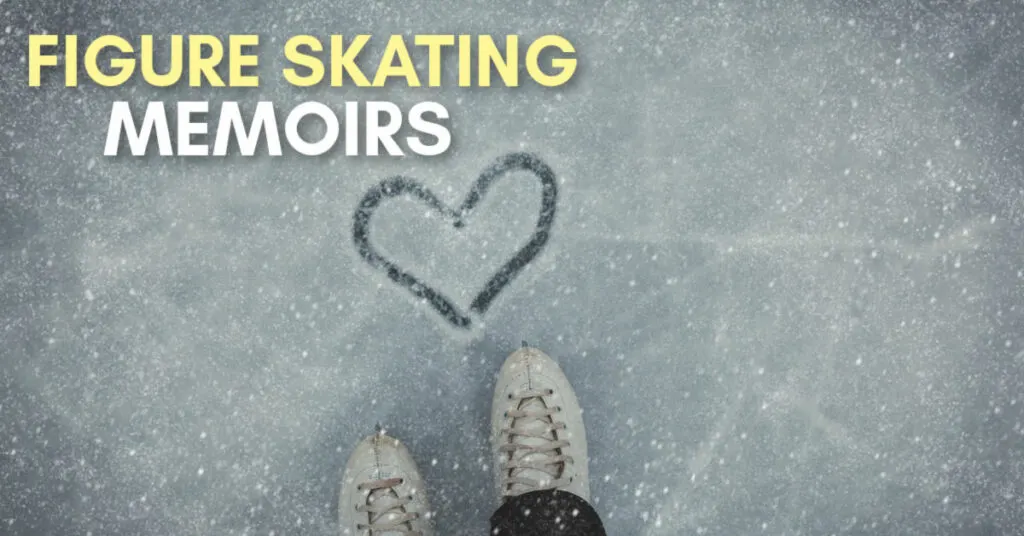 This post may contain affiliate links. Please read my Affiliate Disclosure for more information
Best Figure Skating Autobiographies
Below you will find some of the must-read memoirs and autobiographies about skating.
From Olympic champions to famous coaches, there is something for everyone.
I just finished reading this book and found it really inspirational.
From Nathan's first skates as a toddler to his Olympic gold medal, this book is a must-read for any modern skating fan.
Nathan is very honest in the book and talks about how hard it was for his parents to afford ice time and the sacrifices that they made to allow him to continue skating.

In "Welcome to My World," the charismatic Johnny Weir invites readers into his vibrant and unconventional world.
This memoir chronicles his rise from a small-town skater to becoming a two-time Olympian, capturing the challenges he faced as an openly gay athlete.
Weir's candid storytelling, accompanied by his unique sense of style and unapologetic personality, offers an engaging and inspiring read.

Discover a tale of love, loss, and unwavering dedication in "My Sergei."
Ekaterina Gordeeva, one half of the legendary Russian pairs team, shares her extraordinary journey with her late husband and skating partner, Sergei Grinkov.
From their fairy-tale love story to their remarkable successes on the ice, Gordeeva's memoir serves as a touching tribute to their partnership and an exploration of resilience in the face of unimaginable tragedy.
Immerse yourself in the captivating journey of Sasha who many recognize as the most graceful skater in recent history.
This book will take you through her years as a young skater right through to her silver medal at the winter Olympics in Turin in 2006.

Join figure skating legend Dick Button and sports journalist Keith Groller in a delightful conversation about the sport's rich history and Button's incredible journey.
"Push Dick's Button" is a unique memoir that combines Button's personal anecdotes, expert analysis, and humorous insights. From his own experiences as a two-time Olympic champion to his role as a television commentator, Button's candid storytelling provides an entertaining and informative look into the world of figure skating.

Experience the ups and downs of Olympic gold medalist Scott Hamilton's life and career in "Landing It." Hamilton's memoir takes readers on a rollercoaster ride of triumphs, setbacks, and personal victories.
From his rise as one of the sport's most accomplished male skaters to his battles with health issues, Hamilton's resilience and positive outlook shine through.
With warmth and authenticity, he shares his passion for skating, the importance of perseverance, and the power of finding joy in the face of adversity.

Dive into the life story of beloved figure skating champion Dorothy Hamill in "A Skating Life."
Hamill's memoir offers a heartfelt account of her rise to stardom, the pressures of competition, and her personal journey of self-discovery.
With honesty and vulnerability, she explores the sacrifices made for success, the challenges of maintaining a balanced life, and the enduring impact of her iconic skating style. Hamill's story is an inspiration to skaters and fans alike.
Tessa Virtue and Scott Moir, the beloved Canadian ice dance duo and Olympic champions, share their extraordinary journey in their memoir, offering an intimate and revealing glimpse into their lives both on and off the ice.
In their book, Virtue and Moir reflect on the highs and lows of their career, recounting the countless hours of training, the intense pressures of competition, and the profound bond they forged as partners.
With refreshing honesty and vulnerability, they open up about their deep connection, the sacrifices made along the way, and the unwavering pursuit of perfection that propelled them to become legends in their sport.
U.S National Champion Karen Chen opens up int his memoir about her journey to gold. This amazing book is perfect for any one who dreams of a life on the ice.

America's figure skating sweetheart's memoir is comedic gold with lots of laughs. Its a brutally honest account of how important the business of being pretty is in the figure skating world.
This book was written when Michelle was only 17 so it doesn't cover her whole career but is still a really fun and interesting look into the life of a champion figure skater who achieved greatness by age 16.
These captivating memoirs by figure skaters offer a unique glimpse into the lives and experiences of these remarkable athletes.
Each story is filled with passion, determination, and the indomitable spirit that defines the world of figure skating.
Happy reading!