The Figure Skating Journal: a digital download ice skating journal made with your home printer. Easily assembled in a binder or it can be spiral-bound at your local copy center.
Are you looking for a great printable ice skating journal that will help you stay on track organized with your figure skating training?
This printable figure skating journal has everything you need for your ice skating journey and progress.
This journal was designed for ice skaters to keep notes from training, skating lessons and competitions.
This figure skating journal makes it easy to set goals, make a training plan, and track your progress!
This journal is a project I've wanted to do for a very long time, and I'm so glad this skating journal is finished.
This ice skating planner is a digital download that's easy to print and assemble.
Any kind of journal is a personal thing…and a skating journal is no different.
This post contains affiliate links. Please read my disclosure for more information
What Is In The Ice Skating Journal?
The journal is packed with 40 pages filled with trackers, planners and charts to help improve your skating.
It features pages for setting skating goals, building a training plan, practicing moves, taking inventory of your skills, preparing for competitions, and more.
This Ice Skating Journal includes:
Weekly Planner
Monthly Planners
Training Plans
Goal Tracking
Achievement Tracker
Practice Notes
Skills & Sequences
Skating Moves Chart
Vision Boards
Fitness Log
Competition Checklist
Expense Tracker
Skating Bucket List
Yearly Planner
Performance Notes
Space for Additional Notes!
Don't head off to the rink without your handy figure skating journal!
This journal is suitable for all ages and all levels of skating.
This is a digital planner, which includes a 40 page printable PDF.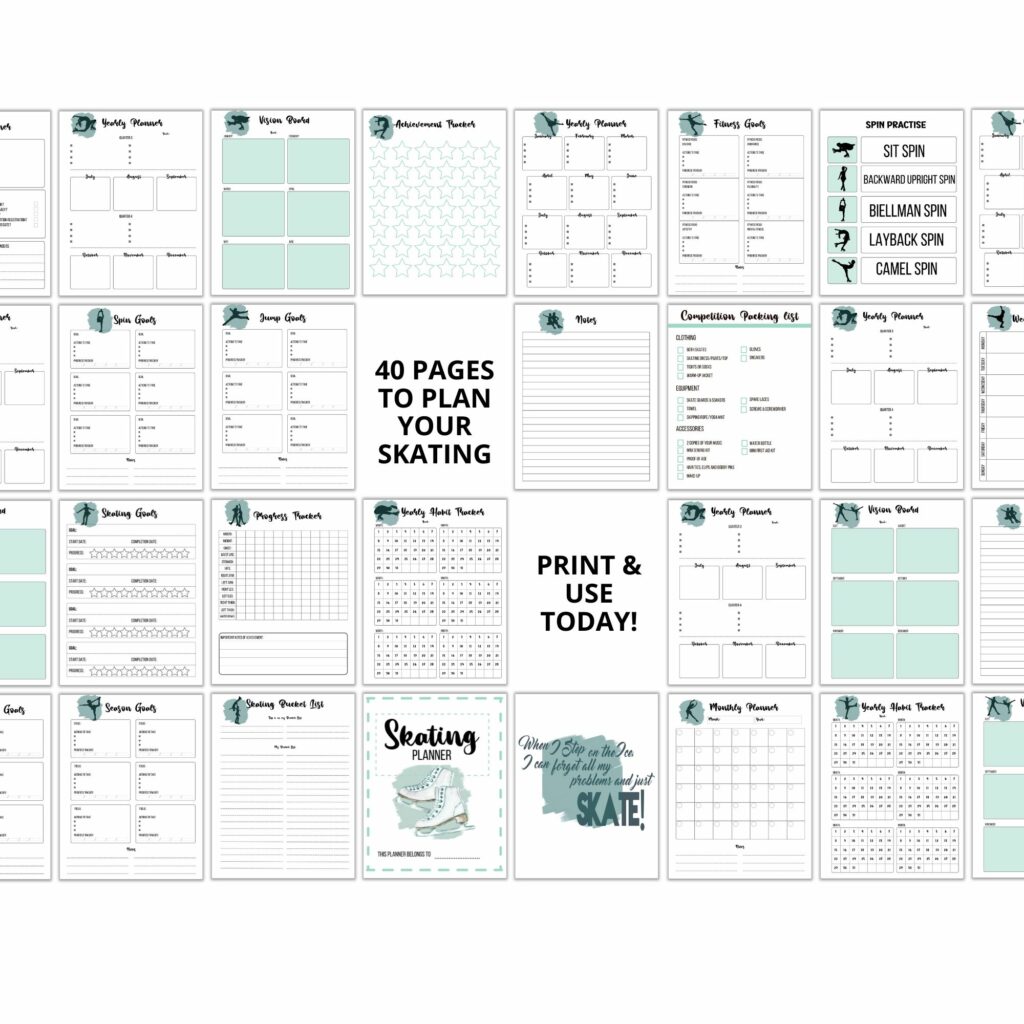 The Figure Skating Journal Printing Tips
Most of the pages in the PDF should be printed on regular copy paper.
You can easily print this journal out on your home computer, or save it to a flash drive and have a copy center such as Staples or Office Depot print it for you
Copies needed for a one year journal:

Print front and back covers on white card stock
Print Table of Contents on white card stock

Page 4: Weekly Planner – 52 copies on regular copy paper
Pages 5-6: Monthly Planner – 12 copies on regular copy paper
Pages 7-39 – 1 copy of each page as needed on regular copy paper
To get your own digital download of The Figure Skating Journal for under $10, click here.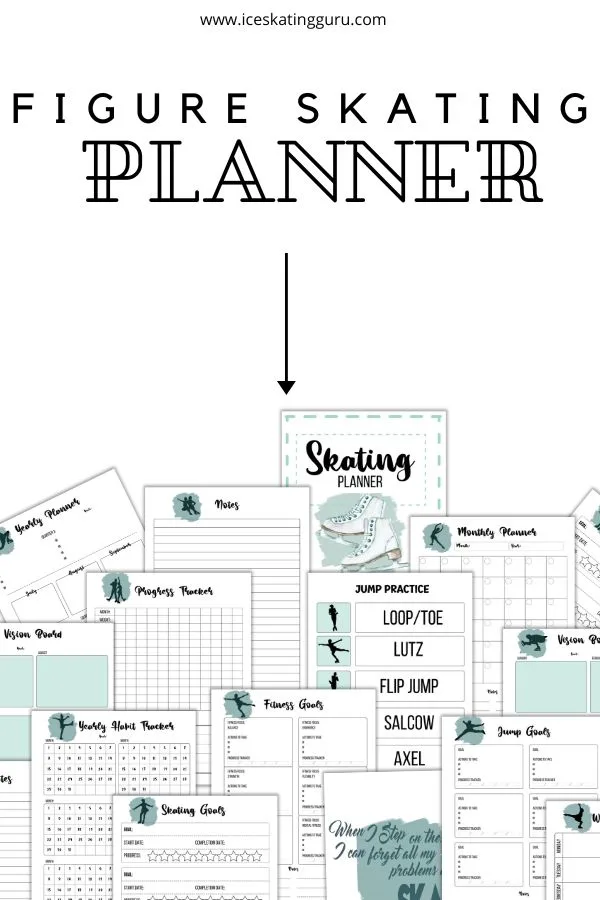 More Figure Skating Posts
Ice Skating Moves Chart {Free Printable}