What do figure skaters wear to practice? We are all aware of the beautiful competition dresses that skaters wear but what about practice outfits?
Given than a figure skater can spend 20 or more hours a week on the ice, it makes sense that they need training clothes that keep them warm and comfortable.
In this post we will show you the best practice outfits for ice skaters of all levels, from the elite to the new competitor.
By the end of this post, you will know the best clothes to wear, where to get them and how to decide what works for you.
This post may contain affiliate links. Please read my disclosure for more information.
MORE ICE SKATING TIPS
What Do Figure Skaters Wear To Practice?
Head to any ice rink, anywhere in the world and in most cases you will find that there is a certain "uniform" that skaters like to wear, regardless of their skating skills.
While fashions come and go, the most important thing about ice skating practice clothes is that they cover a few bases:
The Ideal Figure Skating Practice Clothes are:
Comfortable for doing jumps and spins
Stretchy fabric and loose clothing is good choice because it will allow the skater to bend for spins and stretch their legs for moves like spirals. Restrictive clothing like jeans are not a good idea because they can be heavy and too tight.
Layered Clothing
Long sleeves in technical fabrics paired with a sweater or zipper top are the most popular styles because layers can be added or removed as practice goes on. A vest or gilet is another great way to add layers while still being able to move freely.
Not bulky
Anything too bulky like snow pants or a large winter coat will hamper your progress and movement on the ice. Most skaters beyond the beginner stage opt for more form fitting clothes that allow them maximum range of movement.
Water Resistant or Similar
Although you don't need to wear waterproof clothing on the ice, it does help to wear clothes that repel or at least don't absorb water too much. This is especially important for your gloves and pants.
Even the most elite ice skaters fall often and there is nothing worse than feeling cold and wet.
What To Wear To Practice Ice Skating

For the most part, skaters who practice all kind of figure skating from ice dance to singles, all wear the same practice clothes. Let's look at a few of the most popular ice skating practice outfit options:
Tops For Ice Skating Practice
A long sleeve ice skating top doesn't need to be fancy. Anything that allows you to move and has some stretch is probably a good idea. Stay away from synthetic fibers so that your skin can breath easily. Technical sports tops that wick away sweat are a good idea.
Boys shirts typically are similar to girls although they are often less form-fitting.
Your top layer can be a sweatshirt but most skaters opt for a zip up top layer that is not too bulky. Polartec jackets are a great choice as they are very warm but also thin.
Avoid hoods if possible as they can get in the way during spins.
Here are some good ice skating tops to wear:
And for your top layer:
If you want a cute vest for extra warmth, here are is a great option:

Pants For Ice Skating

Although in competition, most female ice skaters wear light tan tights, in practice these are not thick or warm enough for hours of skating.
Stretchy yoga pants and workout pants with a fleece lining are the top choice for most ice skaters.
You can buy fleece lined leggings in most clothing stores but if you find they make you too hot, regular yoga pants are also very popular.
As far as style goes, you can buy straight leg pants that end at your skates or bootcut ones that slide all the way over your boot to your blade.
Some skaters like to wear a small skating skirt over their pants too.
Make skaters typically opt for lightweight sweatpants that are not too loose.
Dresses For Ice Skating Practice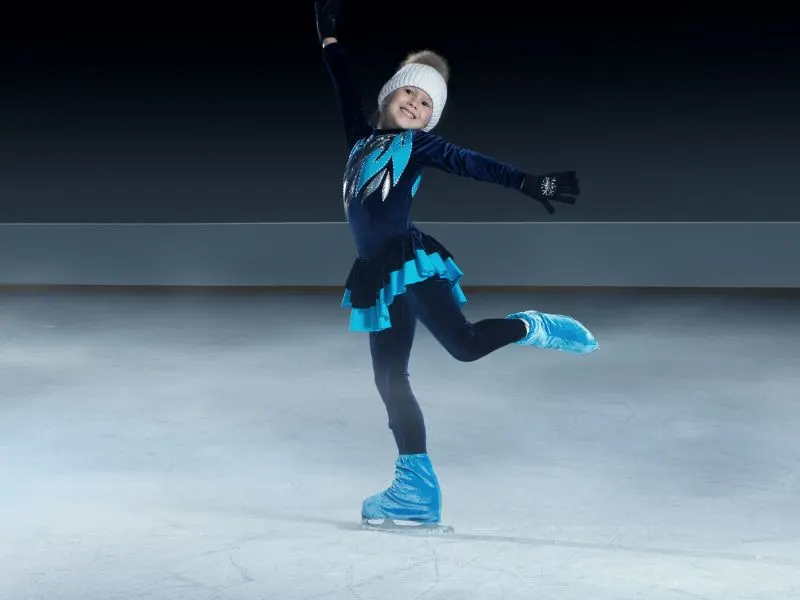 If I was writing an article answer the question "what do figure skaters wear to practice" 30 years ago, dresses would have likely been at the top of the list but times have changed and so have fashion trends.
If you prefer wearing dresses with over the boot tights or regular tights, you can buy Polartec thick dresses that are perfect for practice. These seem to be less popular now than they used to be although younger skaters still like to wear them.
Most skating shops should have a selection for you to choose from.
Accessories For Ice Skating Practice
In addition to your pants and tops, you'll need a few other items:
Thin Socks
You might think that thick cozy socks are the way to go on the ice but in fact, the opposite is true. You want very lightweight socks that are similar to the bamboo tights that skaters wear during competitions.
Cozy Gloves
Gloves are a must when ice skating. You want to protect your hands from the cold and some moves require you to gran your boot too!
Younger skaters often find mittens are warmer but of course, they lack the freedom of movement that you get with gloves.
Leg Warmers
For an extra layer of warmth, leg warmers are the perfect solution. You can get old fashioned wool ones but one Etsy store even sells fin fleece ones that zip up.
Headband
A fleece headband is another way to keep you a little bit warmer while skating. You can buy stretchy headbands that will keep your hair out of your face and your ears warm!
Boot Covers
Not to be confused with blade covers which you do need, boot covers are not essential but they can help to keep your skates look great and ding-free. You can buy skate covers in all different styles and fabrics from furry to stretchy neon.
Figure Skating Practice Outfit Ideas
Here are some great ice-skating costume ideas to copy:
Ice Skating Skirt

Simple Black Leggings and Tops
Classic Black Training Outfit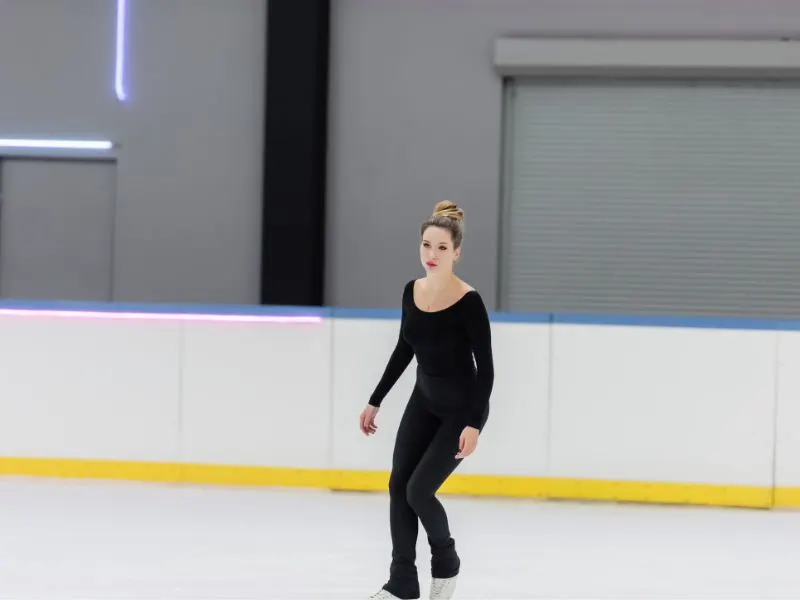 Ice Skating Outfit for Little Skaters
The Best Figure Skating Practice Outfits: FAQS
What are the top brands for figure skating clothing?
There are quite a few brands that make beautiful ice skating clothes but the one that you choose will depend on where you live as shipping costs vary considerably.
Here are a few of the most popular brands:
Chloe Noel is a USA based brand that makes all kinds of figure skating clothes including dresses, tights and practice clothes. They make lots of great Polartec outfits with gemstones in different patterns.
This Quebec company makes all kinds of fun skating clothes and dresses that are sure to catch the attention of the judges at competitions! They also offer free delivery within the USA and Canada.
This Australian brand is very popular with ice skating in the UK and rest of Europe. Their lines of cute leggings in fun colors and other accessories make them a top choice for younger skaters.
Jerry's website has a large range of practice wear and ice skates for all levels for skater.
What Are Some No-nos When It Comes To Ice Skating Practice Clothes?
We've already spoken about avoiding anything overly bulky or heavy. You also want to skip long scarves, dangly earrings and pants that are too long and touch the ice.
What Colors Are Most Popular For Ice Skating Practice Clothes?
Without a doubt, the majority if ice skating clothes are black. In fact, at some skating clubs and synchronized skating teams, all practice clothing must be black.
This is because it stands out against the ice and makes it easier to see any mistakes while performing elements.
Can I Wear My Competition Dress For Practice?
For the most part, skaters do not wear their competition dresses to practice as they are a bit cold and you don't want to risk ruining them before the big day.
Some skaters do wear their dresses with a Polartec top and thick tights for practise although this is more common with younger skaters.