Ice skating is a great way to stay active, but it can be difficult to find time to ice skate in a real rink. First of all, ice time is expensive and in some places, rinks close during the summer months. If you want to really improve your skating skills when you are not at the rink, today we will show you how to practice ice skating at home.
We'll look at the options you have for recreating the on-ice experience at home to take your skating to the next level.
While you might not be able to build a backyard rink if you live in California, it doesn't mean that you can't practice skating at home -here's what you can do.
This post may contain affiliate links. Please read my Affiliate Disclosure for more information
How To Practice Ice Skating At Home
If you want to learn how to ice skate better but you can't get to the rink, never fear – here are some great ways to help you hone those skating skills without the ice!
Use Rollerblades To Practice Skating In The Off Season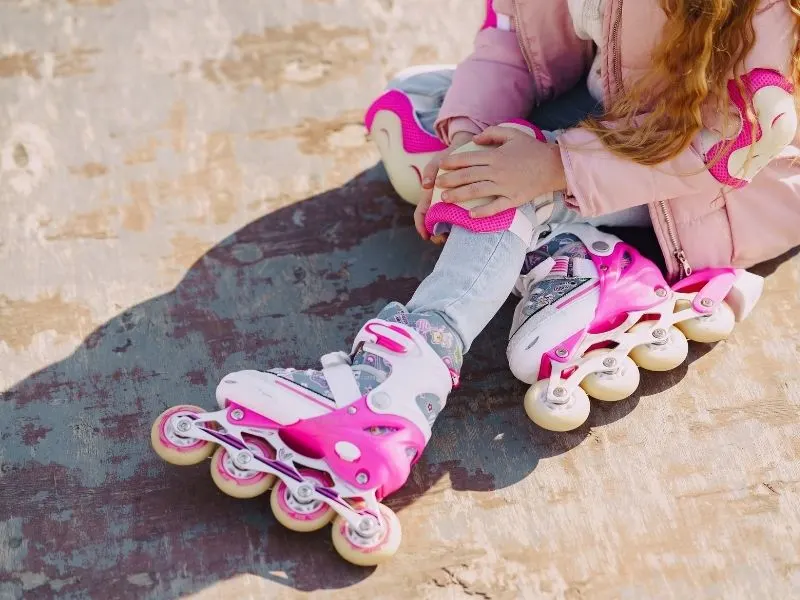 Ice skating is a popular winter sport, but it can be hard to find a place to practice in the off season.
One option you can do is to try rollerblading to help you stay in shape and improve your ice skating skills.
Rollerblading is very similar to ice skating and will help you improve your balance and coordination when you can't get to the rink.
Your posture on roller skates and ice skates is similar and you will be able to practice your spins and turns.
Roller skating is also a great workout and can help you stay in shape for the winter season as many of the same muscles are used as figure skating.
The other great thing about using rollerblading for dry-land practice is that it is very budget-friendly.
Of course you'll need some rollerblades but you can potentially pick up a pair at a yard sale or thrift store (rollerblading isn't as popular as it was back in the 1990s). If you are going to a roller rink, you may be able to use rental skates.
Failing that, a new pair will set you back about $70 (these are the bestsellers on Amazon and get great reviews).
Other than that, you'll want a bike helmet, elbow pads and knee pads and you will be on your way. Rollerblading is a great way to enjoy the fresh air and get outside during the good weather.
Build a backyard ice rink
If you live in a cold climate, you can bring the rink to your house by building a backyard rink. Of course, you'll need the space to build it and a relatively flat backyard. Then you are ready to go once the weather gets cold enough.
Building a backyard ice rink is a fun, family project that can be completed in just a few hours and is great whether you are a hockey player or a figure skater. Skaters of all ages can have fun on an outdoor rink and it is great exercise in the winter months as long as you wrap up warm with an extra layer or two.
In order to make your rink, you can either make the boards (the edges of the rink) yourself using 2 x 4s and then add the liner.
Alternatively, you can buy a ready-made kit that can have you up and running quickly. This is probably the best way to make your rink if it is your first time as it is much cheaper than buying the lumber yourself.
Once your frame and liner are in place, the next step is to use a hose to slowly fill up your rink with water. Once the water has frozen and you have a smooth surface, you are ready to skate!
You'll need to watch out for leaks in the liner and try to keep the ice as smooth as possible but a good outdoor rink will provide you with hours of fun!
Make a rink of synthetic ice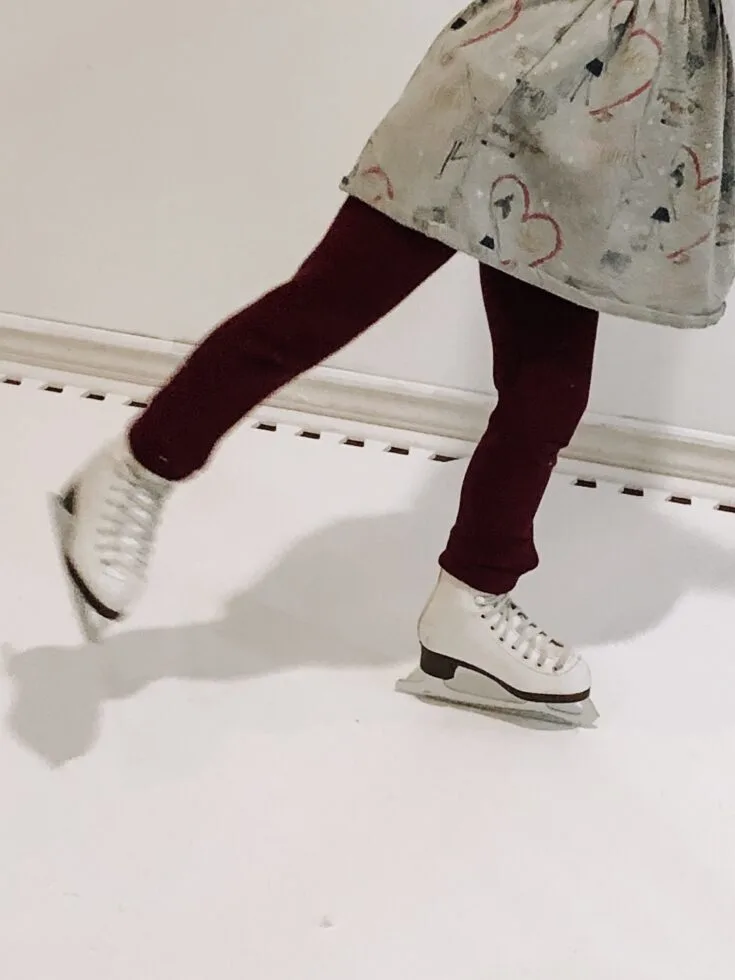 If you don't have a backyard or you live somewhere where a backyard rink is impossible, you can still recreate that ice skating experience with an indoor rink made of synthetic ice.
I first discovered this option when the ice rinks in my town were shut in 2020 and it really helped to bridge the gap and keep my skating skills up.
The best thing about this option is that it is really easy to make a rink of synthetic ice.
In recent years, synthetic ice tiles have grown in popularity as a convenient and affordable way to get your skating fix. Ready-made synthetic ice tiles are a great option if you're tight on space since they can be installed in any room of your house. Plus, they're easy to use – just install them and go!
The only downfall about a in-home ice rink is that the tiles can be pricey, depending on how many you need. For example, a starter kit of around 25 sq ft costs about $250-300.
If you do decide to go this route when looking to practice your ice skating at home, here are some tips you should know:
Get a cheap pair of back-up skates as the synthetic ice surface will dull your blades very quickly. Keep your own skates for real ice.
You won't be able to practice every move on the artificial ice but it offers a great alternative to real ice when you can't get to a rink.
Use Off-ice equipment
Off-ice equipment is a great way to improve your figure skating and ice hockey skills.
There are many different pieces of equipment that you can use to build your strength and endurance on the ice.
Off Ice Spinner
One of the most important pieces of off-ice equipment is a spinner. An off ice spinner can be bought for relatively cheap and is a great way to practice your spins and landings. The great thing about a skating spinner is that you can use it almost everywhere and it can easily fit in your suitcase for travel.
For a run-down of the best off-ice spinners, you can check out our in depth review of the best spinners.
Disc Balance Trainer
You might be familiar with the Bosu Ball balancers that you get at the gym. These are quite pricey but you can buy similar balance boards for a lot less money. Although these trainers cannot replicate your ice skating, they are a wonderful addition to your off-ice training as they can help you to improve your core and balance.
You can practice spirals, landings and "H" position on the balance board very easily.
At Home Jump Harness
Ok, this might seem a bit wild but if you really want to be hardcore about your off-ice training, you can consider building your own jump harness.
This option comes up a lot in social media groups of figure skaters who want to know how to practice ice skating at home.
One of my friends made one in her garage using climbing rope and a double pulley system so it's easy for my girls to lift each other.
If you have younger children, you will need to be quite hands-on with this method and it is definitely a two person activity.
I found this DIY tutorial on YouTube that might help you if you want to make your own off-ice harness.
Take off-ice classes
Everyone knows that in order to be a successful figure skater, you need to spend time on the ice.
But what about off the ice?
Taking classes off the ice with an athletic trainer or skating coach can help improve your game in many ways.
Here are four reasons why you should take off-ice classes:
1. Off-ice classes can help improve your balance and coordination. This is important because it helps you stay upright and stable on the ice, which can prevent you from falling or getting hit by the puck.
2. These lessons help improve your strength and speed. This is important because it helps you skate faster and stronger, which can make it harder for defenders to stop you.
3. Off-ice classes can help improve your flexibility and help with strength training.
4. You can learn moves off-ice (new jumps, spins, routines) so that they come easier to you when you get back to the rink.
This is the number one advantage I have found to off-ice classes. You can practice new jumps and moves on dry land and create muscle memory so that when you on the ice, they feel natural.
Many skating clubs run off ice classes for their skaters, but if you want something at home, I recommend checking out Zoom classes.
I've taken a few classes from this British based pro skating team. They offer all kinds of skating lesson options virtually from skater ballet to jump class and the prices are very reasonable.
If you are looking for some off ice workouts that you can do easily from the comfort of your living room, there is something for everyone at all skill levels.
This international off-ice academy has lots of classes for the advanced figure skater. They offer group lessons for young skaters from around the world who want to improve their jumps and spins. These classes are not for beginner skaters who are into recreational skating but if you are looking for off ice practice and a comprehensive lesson focussed on one important skill, you will love these classes.
From a four week series of double jump intensives to axel classes, there is something from everyone.
Sign up for their mailing list to get notified of new courses and get invited to free special events from time to time.
How To Practice Ice Skating At Home – Final Thoughts
When you can't make it to the rink, it can be frustrating but with this guide you can learn how to practice ice skating at home.
Luckily there are lots of options that can help you work on your skating skills and core strength from the comfort of your backyard or basement.
Figure skaters can use off-ice tools such as harnesses, spinners and private lessons online to learn new skills at their own pace.
If you are a recreational skater, you can also benefit from practicing skating at home as you may learn a different technique off-ice that helps you boost your on ice performance.
Bottom line, all ice skaters should make the most of cross training and practicing their skills even when they are not at the rink. After all – practice makes perfect!