If you are hosting an ice skating party and want to serve something extra special, why not try your hand at making these easy ice skate cookies?
I was recently charged with making cookies for an ice show and I came up with this adorable little treats.
One of the things I really wanted to make were cookies in the form of ice skates but I was a little nervous of the expertise involved as I don't have much!
This page contains affiliate links meaning I earn a commission if you use those links. Please read my Disclosure for more information.
I found this brilliant Ice Skate Cookie Cutter on Amazon
and the great thing is, it would work for a hockey party in the future too!
For the cookies, I used my tried and true Empire cookie recipe.
I like making Empires because they are great for using with a cookie cutter plus they are not as finicky to make as regular shortbread.
I prefer these cookies to sugar cookies as they hold their shape fantastically. This was really important for the intricate design of the ice skate cookies.
Empire cookies are a traditional Scottish shortbread sandwich cookie that I modify and use in place of sugar cookies. If you are looking for egg free cookies, these are for you! Sugar cookies would work just as well though as long as you make sure to chill the dough well.
Ingredients for Ice Skate Cookies
2 cups softened butter
1 cup white sugar
4 cups sifted all-purpose flour
Directions
Cream the butter and sugar together
Gradually add in the flour until a dough forms. It will be a bit crumbly and flakey
Cover with plastic wrap and chill for 1-2 hours or overnight
Roll out onto a well-floured surface and cut into desired shapes
Bake at 350c for 8-10 minutes or until the edges start to turn golden.
Cool completely on a wire rack before frosting.
How To Frost the Ice Skate Cookies
I used a simple Royal Icing for my cookies but you could also use the Wilton Cookie Icing bottles if you don't have time. It is much more cost-effective to make your ow icing from scratch though.
Royal Icing Instructions
Add tiny amounts of boiling water or milk to confectioners sugar and mix rapidly until desired consistency is achieved.
If you can spring for it, using meringue powder will give you a great royal icing.
Optional: add a drop or two of almond extract to the icing.
Use the icing ASAP as it will harden quickly.
How To Frost The Cookies
Dip each cookie in the royal icing and set aside to dry for about 24 hours.
Using Black Icing or Black Gel , draw a line for the sole of the ice skate and then a square for the heel.
Leave the black to dry for 30 minutes-1 hour. (note that the gel icing, which is what I used, does not harden completely and remains tacky. I don't recommend stacking cookies if you use the gel icing)
With some more white icing, draw in the skate's blade using a piping bag. Sprinkle with Edible Silver Glitter and shake off the excess. Leave to dry before stacking.
Dot the shoelace holes using black icing.
With a different color frosting, draw the laces on the top of the boot.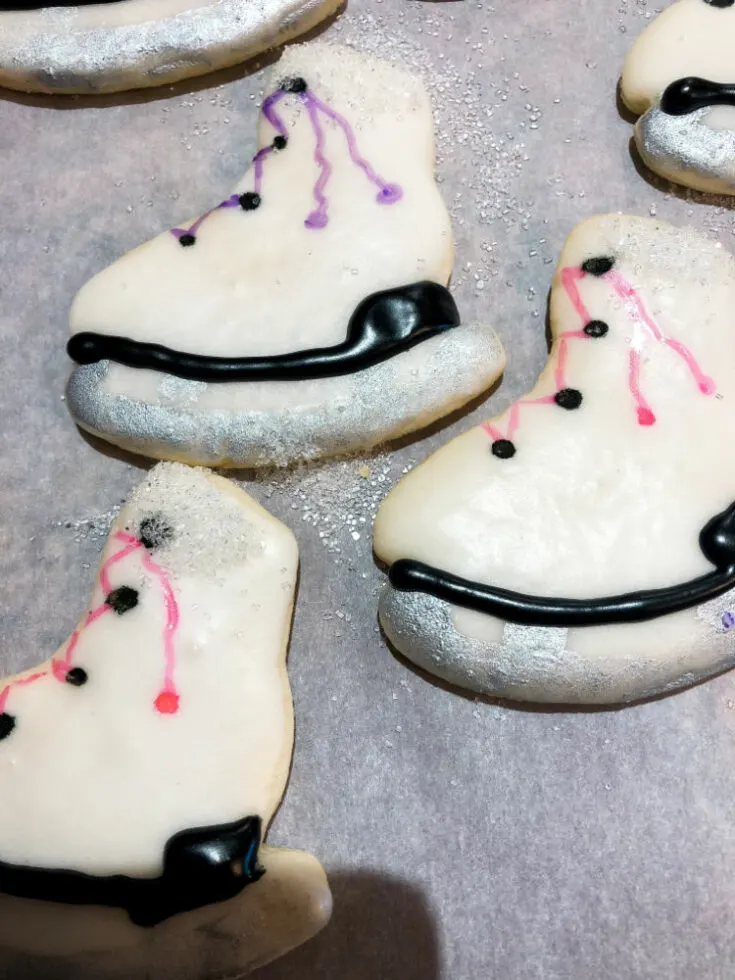 The Final Ice Skating Cookies
These ice skate cookies are perfect for an ice skating birthday party, a skating club fundraiser or just as a fun treat for anytime at all.
They are easy to make and look really cute. If you wanted to make a hockey skate cookie, you can use the same cookie cutter and just use black frosting instead of white.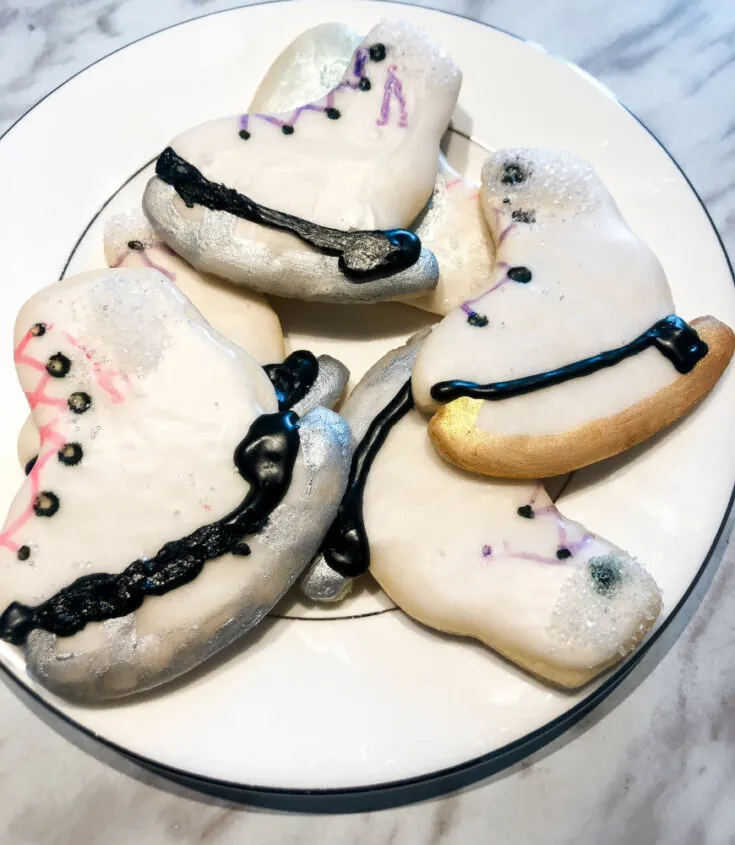 Pin this Recipe For Later