New skates can be uncomfortable at first but if you experience consistent pain or ankle issues, you may need ice skating insoles. In this articles we review the best options out there.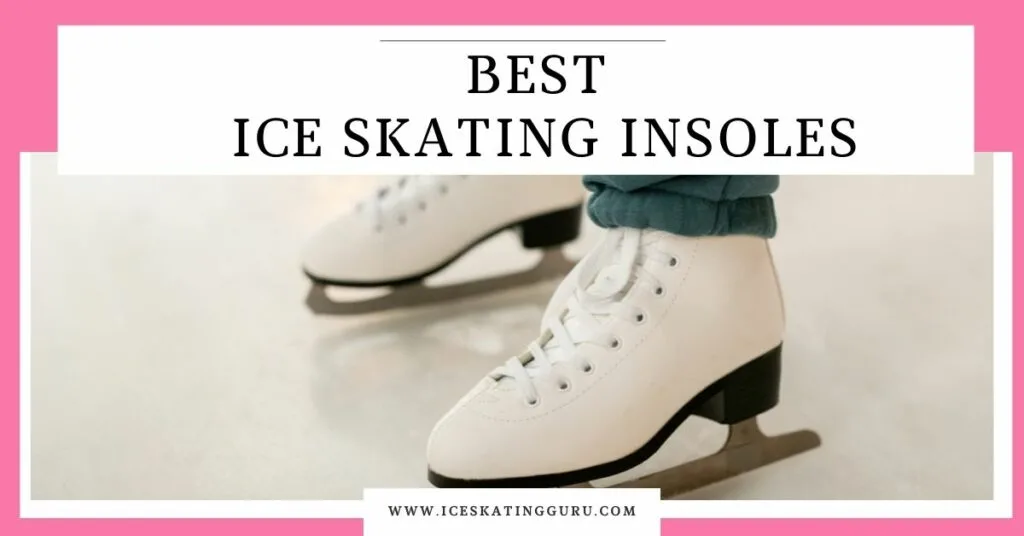 This post contains affiliate links. Please read my disclosure for more information
No matter what level you are, sometimes you need a little help to make your figure skates feel comfortable.
And of course, as you move up the ranks and are required to do more spins, jumps and twizzles, then the impact on your feet and ankles increases even more.
In this post we will look at the best insoles as rated by current ice skaters of all levels.
The great news is, most of these options won't break the bank and you can even get them on Amazon.
Ready? Let's get started.
The Best Ice Skater Insoles
You might think that you can use regular old insoles from the drug store but most likely they will not fix your painful skate problem.
Skate insoles are especially designed to fit into your skating boot and withstand the jumps and spins that you need them to.
That being said, you don't need to fork out hundreds of dollars on custom orthotics either (although if your issue is severe, it is never a bad idea).
You might want to try insoles if you have any of the following issues:
Flat feet
Overpronation
High arches
Sore feet when wearing your skates
To find the best ice skating insoles, we are looking at the following criteria:
Cushioning
Many insoles provide cushioning at the heels or arch but not throughout the whole foot.
Skaters need a thick layer of cushioning to make their skates comfortable, especially as most figure skaters only wear thin nylon socks.
Breathability
You feet will be much more comfortable if they can breath! Also it will keep your skates and socks fresh after a long session on the ice.
Arch Support
If you have high arches or flat feet, you could probably do with some good insoles. The best insoles are heat and wear moldable.
Fit
Most of the best ice skating insoles can be trimmed to fit your skating boot which really important.
You might be wondering if you can put regular in soles in hockey skates or figure skates but to be honest you are much better off using specific in soles that will fit your skates properly.
Ice Skating Insoles Reviews
Most of the more popular insoles for ice skates are actually designed for hockey skates.
When I surveyed all the skaters are my local rink, they all found the hockey-specific insoles to fit great in their figure skates and to provide the support they need.
Below you will find their top picks for insoles for figure skates:
Our top pick:
The Superfeet Carbon Pro hockey insoles are the number #1 recommended ice skating insoles online. Most people use them as a first defence to make their skates feel more comfortable and to help flat feet or extremely high arches.
As these insoles are specially created for hockey players, they tick all the boxes when it comes to finding the best insoles for our skates:
A structured heel cup is made for maximum shock absorption
The shape of these skate shoe inserts is angled to match your skates and improve energy transfer to the ice
Exceptional energy transfer can add up to 11% better acceleration on the ice
Best Runner-up For Skates:
Superfeet really are the top dog when it comes to insoles for ice skates and these ones are the original design that still get rave reviews.
These insoles are a bit thinner than the carbon pro version with a bit less cushioning.
One thing to note about these insoles is that they are sized for your skate size and not your regular shoe size.
The Yellow Superfeet are designed specifically for a hockey skate and work great for figure skates too. The low-profile full foam length anti-bacteria insole delivers optimal support underfoot and increases energy transfer from the foot to the skate onto the ice.
Many skaters notice increased power while doing crossovers when using the Yellow Superfeet.
Trim-to fit design specially made to follow the contours of a skate
Heat-moldable in a skate oven also
Perforated forefoot improves air circulation
Best Budget Option:
If you are on a shoestring budget but need some insoles for your ice skates, the Physix Gear Sport insoles are a good option.
They have over 18,000 great reviews on Amazon and come in a range of different sizes (adults only).
Note that many people mention in reviews that it can take some time to get used to the high arches.
This is because they are aligning your feet/ankles/legs into the right position.
After a while of the arch forcing your foot into the correct position, you should find pain relief and better results.
Relieves metatarsal arch and heel pain
Great for flat feet
Thin enough to fit in any ice skates
Great arch support
Best For High Arches:
If you have high arches and the Super Feet don't work out for you, we found the SOLE brand insoles are great for higher arches.
The soles are heat and wear moldable making them great for fitting perfectly into your ice skates. (some people suggest popping them in a toast to warm them up for molding!)
Very comfortable and great for high arches
Met pad adds support by keeping metatarsal bones in their natural resting position
Easy to trim to your skates
Best For Cross Training:
If you are looking for some good all round insoles that you can use for your off-ice training too then the EasyFeet brand has you covered.
These trimmable insoles are great for running, hiking and skating. They are right in the middle price-wise when it comes to the best insoles for skating on this list.
Equally distribute the load on the foot and keep it in the correct position, contributing to body alignment and distributing pressure on the foot.
Minimize the risk of high-intensity sport injuries, including back trauma, torn ligaments, runner's knee, shin splints, plantar fasciitis and stress fractures.
1 year guarantee
Notable Mention:
Bauer Speed Plates
A lot of people rave about the Bauer Speed plates so I wanted to mention them for those skaters who use hockey skates.
I don't recommend them for figure skates which is why they are not at the top of this list.
Heat moldable with a revolutionary technology similar to the one used to "bake skates"
Great for high arches
Improve acceleration and balance.
The Best Ice Skating Insoles – FAQs
How do I make my ice skates more comfortable?
The easiest way to make your ice skates more comfortable is to try insoles that are specific for skates.
The Superfeet brand are made for hockey skates and many figure skaters find that they are life-changing when it comes to the comfort of their skates.
Trying skating insoles is a low-cost solution to uncomfortable skates that can help avoid the expense of buying a new pair of skates completely.
Other tips for improving the comfort of your skates include:
Wearing thin nylon socks (or no socks) that prevent blisters
Having a skate professional heat mold the skate to fit your foot
How much should I expect to spend on ice skating insoles?
If you are buying heat moldable or trimmable skate insoles from Amazon or a local skate store, expect to pay between $20-70 per pair.
Can you put insoles in ice skates?
Not only can you put insoles in ice skates but you probably should! Certain brands of insole specifically designed for skates have been shown to improve speed and power on the ice.
Can you skate with flat feet?
Yes – anyone can learn to skate and skate well. If you have flat feet, you might find that insoles such as the Superfeet brand make all the difference when it comes to your skating.
How often should I change my skate insoles?
The lifespan of your insoles will, of course, depend on how often you skate, but you should expect to have to switch them out every 6 to 12 months.
Bear in mind that the lesser expensive insoles will wear out quicker and may end up costing you more money in the long run.
The Best Skating Insoles – Final Thoughts
If you are finding your skates aren't as comfortable as they once were or your coach has mentioned that your alignment is off, your first port of call should be some insoles for your skates.
You will be amazed to see how much one simple insole can improve your comfort and skating skills.