Are you getting ready to go ice skating and are wondering what to wear ice skating indoors? Don't worry, we have you covered with in this article. Learn all about the best ice skating attire for an indoor rink so that you look stylish and don't freeze!
You might think that when it comes to what to wear to an ice skating rink, all you need to need to do is rent some skates and you are good. Unfortunately without proper gear you will be likely cold and uncomfortable, and potentially unsafe.
If you want to enjoy indoor ice skating, you need to do a bit of planning.
Having just skates will not be enough, and you will need to wear appropriate attire. The correct clothing will make sure you keep warm and cozy while allowing you to do those fancy moves on the ice.
With that in mind, let's explore what exactly you need to wear when you are ice skating indoors.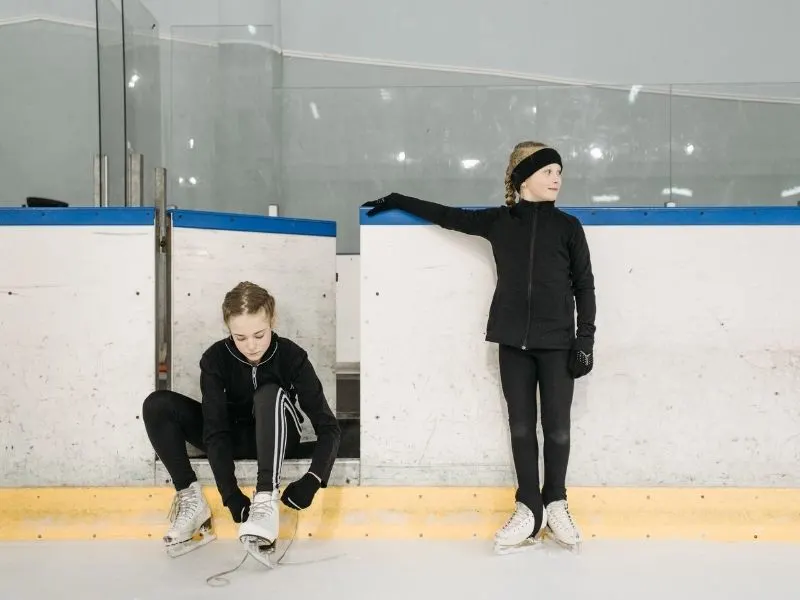 This post contains affiliate links. Please read my Affiliate Disclosure for more information
MORE ICE SKATING TIPS
Ice Skating v Roller Blading: Is Ice Skating Harder Than Roller Skating?
What To Wear Ice Skating Indoors
Whether you are going on an ice skating date or you are starting skating lessons, one of the most important things to consider is what to wear.
Dressing for ice skating can be tricky, especially if you're not sure what to wear.
In general, it's best to dress in layers so you can adjust as needed. While professional skaters wear teensy tiny dresses when they are skating, consider that you may fall on the ice and will likely be on the ice for longer than a 5 minute Olympic routine.
Even Olympians wear long pants and sweaters when they are in practice sessions.
For women, leggings and a tunic or sweater work well.
You'll also want to wear socks that cover your ankles and a hat or headband to keep your hair out of your face. Men can wear sweatpants with a long-sleeved shirt and a light jacket. Gloves are also a good idea, especially if the rink is cold.
Let's look at all the things you need to consider :
11 Items of Ice Skating Attire For An Indoor Rink
Here's a list of clothes that you will need to wear when you are ice skating indoors.
1. Leggings or pants
Ice skating is a fun winter activity, but there are some rules of etiquette that you should know before hitting the ice. One such rule is that you should always wear pants when ice skating.
You should never wear shorts or dresses when you go on indoor ice skating. I've seen people wearing shorts at an indoor rink in the summer and to be honest, it just looks wrong!
There are a few reasons why it's important to follow this rule.
For one, wearing pants will help keep you warm on the ice. They'll also protect you from getting scrapes and bruises if you fall down.
If you're not sure what type of pants to wear when ice skating, there are a few things to keep in mind.
You'll want to choose pants that are thick enough to keep you warm, but not so thick that they're difficult to move in. You'll also want to choose a pair of pants that fit well and aren't too baggy that they get caught on your blade or toepick.
The best thing you can do is to wear comfortable pants, which stretch and move. It is not a good idea to wear jeans as they will restrict your mobility and are heavy.
Personally I am a huge fan of fleece lined leggings for skating indoors. You can get them in all different patterns and styles and they are really comfortable.
Men can wear sweatpants that are not too baggy or long.
Here are my top picks for fleece leggings (from Amazon).
90 Degree By Reflex High Waist Fleece Lined Leggings
These leggings come in version with or without a pocket.
Yeokou Womens Sherpa Lined Sweatpants
If you don't want to wear tight leggings, then these thick and cozy sweatpants are for you.
2. Sweatshirt, hoodie, or light jacket
When you are ice skating, you'll be moving around and getting warm, that's why you need to make sure that you are not wearing a heavy jacket. Although you may see some professional skating coaches wearing their thick winter coats on the ice, this is normally because they are standing still a lot and not getting warm.
A light jacket, sweatshirt, or a sweater would be ideal, as they can keep you protected from cold, without restricting your mobility.
If you find the rink cold, you can wear a warm jacket when you first get on the ice but switch to a light jacket when you get warmer.
Here are some suitable sweatsuits and hoodies for ice skating indoors:
Amazon Essentials Men's Full-Zip Polar Fleece Jacket
My husband has this jacket and it is perfect for wearing at an indoor ice rink!
Stay fashionable and cozy with a sherpa hoodie that looks great for both men and women.
3. Socks
Don't forget to bring socks when you are coming to the ice skating rink, especially in the summer.
However, you should also make sure that you don't wear socks that are too thick. That's because thicker socks can cause blisters. Skates are supposed to provide a very tight fit and in fact, many hockey players go sock-less when they play.
When you are skating, you have two choices for socks:
If you want to wear thicker socks, your best bet is to purchase a pair of pro hockey socks that will not slip in your skates. Hockey socks are also cut-resistant which is good if you are a bit nervous on the ice.
You know those beige nylon tights your grandma wears? Those are essentially what figure skaters wear under their skates. While they are slightly thicker than regular nylons, they are much thinner than normal socks and work to ensure a tight fit in the ice skates.
4. Turtleneck or long-sleeved shirt
Even if you are wearing a jacket or a light sweater, it is a good idea to wear a long-sleeved shirt along with you as well. The mock neck or turtleneck you wear will be able to provide extra protection to you from cold if you don't wear a scarf.
Another option is to wear a silk under shirt or vest under your sweater. These wick away moisture to keep you warm.
5. Mittens or gloves
Indoor ice skating rinks are cold so mittens or gloves to keep your hands warm. are a must.
Additionally and perhaps more importantly, they will provide protection to your hands if you fall on ice as well. You don't need to purchase special gloves for ice skating – your regular winter mitts or gloves should be more than good.
6. Scarf
Depending on the rink you go to, you might need to get a scarf to wear inside the ice skating rink. However, you need to ensure that your scarf is not too long. While a long flowing scarf can look fashionable, they can be dangerous on the ice if someone catches it as they skate by you.
The best scarves are infinity scarves or neck gaitors that have no loose ends.
7. Knitted Hat
If you are not wearing a helmet for skating then consider wearing either a bobble hat or a fleece headband to keep your ears warm. I recommend beginners wear a helmet but if you are a more experienced skater then you can wear a hat on the ice.
8. Helmet
Are you wondering what protective gear you should wear when you ice skating? The number one thing you need to wear is a helmet. This is a must for beginners and is actually mandatory for children under 12 in some public rinks (for example all the city run rinks in my town insist on children wearing helmets.)
Even though some people don't wear helmets, we highly encourage you to wear them. yes it is true that they ruin your "look" and are not fashionable but they are really important for safety and to prevent concussions.
If you are going to take your kids to the ice skating rink, you will need to make sure they have well fitting helmets. A helmet you take will provide you the chance to protect you from accidents if you fall over and hit your head.
Of course, a helmet is capable of keeping your head warm as well.
Now I have convinced you to wear a helmet, let's talk about the kind of helmet you need to wear for ice skating. The best kind are hockey helmets that are specifically designed for skating. You don't need to wear the cage that protects your face if you don't want (you can take it off with a screwdriver).
I don't recommend wearing a bike helmet or skateboarding helmet as they may not offer the protection you need for the ice.
9. Ice Skates
Of course the most important thing to wear to an indoor ice skating rink are your skates. If you don't have skates, you can normally rent them at public rinks.
Regardless of what skates you choose, make sure they fit well. Skates should be tight to avoid blisters and ankle rubbing.
If your skates are too loose, you won't be able to skate well and your ankles will start to pronate and bend inwards.
This will prevent you from learning proper skating technique plus it can cause ankle pain.
What skates are best for beginners?
If you plan on skating regularly, I highly recommend the Jackson SoftSkates. These are the skates I have and they are so comfortable, they are like skating on a cloud.
The inside is lined with fleece and they are warm and fluffy plus they are a great price.
10. Padded Shorts
Padded shorts are not a must-have when skating at an indoor rink but if you a beginner and are worried about hurting yourself if you fall, they can offer a layer of protection.
Hockey players always wear padded shorts to prevent falls and I often see little kids wearing them at the rink too.
These padded shorts provide support to the thigh, rear, and tailbone area in case of any falls on the ice (which are inevitable for beginners).
11. Knee Pads
A lot of people who are wondering what to wear ice skating indoors ask if they need extra gear like knee pads or elbow pads. To be honest I don't think these are necessary. Although they are common for skateboarding and rollerblading most people don't wear them on the ice.
What To Wear Ice Skating Indoors – FAQs
Now we have covered the top ice skating attire that you need when heading to an indoor rink, let's look at some of the other things you need to know.
Is it cold when skating indoors?
Yes, it is going to be cold inside the ice skating rink.
In general, the temperature of an indoor ice skating rink is around 24 to 25 degrees Fahrenheit or around -4 degrees Celsius.
The temperature can vary from one ice hockey rink to another. I've found some are freezing cold while other are not too bad. Winter clothing is always necessary though.
In general, it is going to be cold, so you will need to wear appropriate attire when you come in.
Make sure that you wear what we shared in the list, so that you can get the best possible experience at the ice skating rink.
What should you wear for ice skating indoors in the summer?
Even during summer time, indoor ice skating rinks are going to be cold. Therefore, you will need to wear appropriate ice skating attire as mentioned above. The temperature outdoors doesn't change the temperature of an indoor rink however, you may feel colder during the summer months as you are used to the warm outdoor weather.
What clothes should I avoid when ice skating?
You should refrain from wearing heavy and bulky clothes when you are into ice skating.
When you wear bulky clothes, your movements will be restricted. It will keep you away from getting the best experience out of ice skating in the rink.
Avoid the following clothes:
Jeans
Small and thin skating dresses
Short sleeves
Bulky winter coats
Ill-fitting skates
What else should you bring when you go on indoor ice skating?
Apart from the clothing we shared above, there are few other things that you will need to take along with you when you go on indoor ice skating.
They include:
Camera
To capture the great moments, you have on the ice skating rink, you can think about taking a camera along with you. Then you can record the smiles and all fun-filled experiences that you have with your loved ones.
Some healthy snacks
You will need a lot of energy to enjoy ice skating. Therefore, you need to take a healthy snack or two along with you when you are going to the ice skating ring.
Some of the ice skating arenas have vending machines that offer delicious snacks. You can also take a warm drink along with you for after you are done skating.
A Cloth
You will need a cloth such as a dish towel to dry your skates when you are done skating. This will prevent rust from forming.
Follow these tips and get the most out of experience you have at an ice skating rink. It can provide some unforgettable memories to you.
Ice Skating Attire For An Indoor Rink – Final Thoughts
When hitting the ice rink, it is important to dress appropriately. The last thing anyone wants is to be cold and uncomfortable while skating.
Some people choose to wear special ice skating attire while skating indoors but as long as your clothing is warm and protective, you don't need much else.