So, you found out that a special someone is taking you skating and now you are wondering what to wear on an ice skating date so you look cute and stay warm.
Never fear because in this article we will be giving you some great ice skating date outfits to help you look amazing while you glide away.
Activity dates, whether they're laid back or action-packed, are a great way to get to know your partner. An ice skating date specifically is a great test of someone's ability to – quite literally – fall and get back up, handle embarrassment, and show support (if you're the type to need that extra hand on the ice!).
Romantic connection aside, you're here because you want to know what to wear on an ice skating date. Well, we'll do you one better! Read on for outfit do's and don'ts and find out how to look cute too!
This post may contain affiliate links. Please read my Affiliate Disclosure for more information
MORE ICE SKATING TIPS
10 Ice Skating Tips For Beginners
The Best Hotels With Ice Skating Rinks
5 Tips for What to Wear on an Ice Skating Date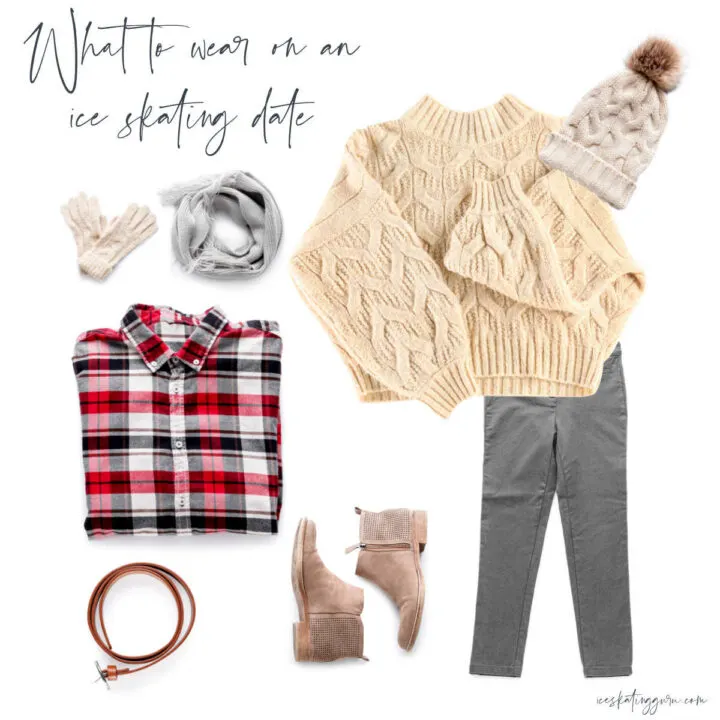 It's Winter on the Ice, So Dress Warm
If you want to have the best ice skating date ever, you need to dress for the weather.
It should go without saying that ice is cold. Skating rinks manage a carefully curated environment to protect the ice. So even if the weather is warming up outside, you should still treat your time on the ice as a winter activity.
Don't be afraid to wear layers on your ice-skating date! What's not cute is numb fingers and chattering teeth. So, keep it cute and functional with some winter layers.
Tuck an undershirt into your bottoms to stop cold air from rushing under your shirt and chilling your tummy.
Wear tights or leggings as a bottom layer: this will keep your legs warm and add a little extra padding for some of those clumsy falls!
With your undershirt, well, underneath everything, you can add a sweater or a long sleeve T and top it off with a coat or jacket
Remember, as you work up a sweat on the ice, it's okay to take off layers. You just don't want to end up in a sticky situation where you don't have enough clothes and find yourself making more meaningful eye contact with the exit than your date!
Winter Accessories
Continuing with the theme of wearing warm clothes for an ice skating date, don't forget your winter accessories! Cute accents complete any outfit for every occasion, so here's how you accessorize for a date on the ice!
Hats
Break out that cute knit with a pom on top. Keep your ears warm and lock in some of your handy dandy body heat! And if hats aren't ideal, you can always get a set of ear warmers.
Gloves
Numb fingers are a no-go, especially on a romantic date! So, slip some wool over those sweaty palms. You can still hold hands with your special someone, and falling will be much easier when you have soft padding to catch yourself with.
Scarves
Don't wear long flowy scarves that hang over your chest or down your back. Even if it's your first time ice skating, you might pick up some speed. The last thing you'll need is a scarf flapping in your face, flying off, or getting caught on something and pulling you to the ground.
Do wear a turtleneck or neck warmer on your ice-skating date. Without loose ends, they keep your neck warm without extra risks. Thinking back to our earlier note about layering: try a plain turtleneck or mock neck shirt underneath a loose knit sweater!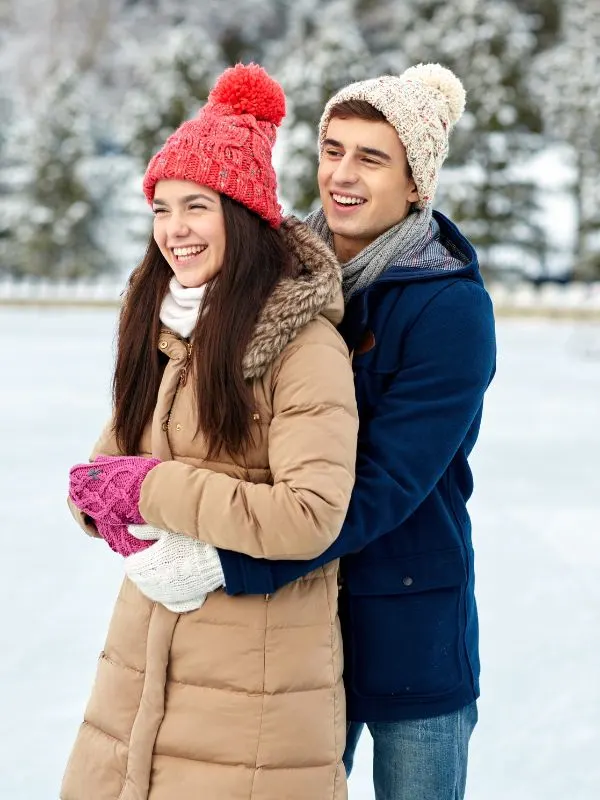 Debate One: Jeans or No Jeans
Jeans are versatile. That's why they're a casual yet stylish go-to for cute date outfits. Naturally, as a cold weather must have, jeans might be one of the first ideas that come to mind when you imagine your ice-skating date outfit. Well, before you jump into your lucky denim, let's talk logistics:
Don't wear skinny jeans. Skinny jeans might hold your curves just right and make you look irresistible, but when is the last time you tried any athletic activity with your favorite hip huggers?
Whether you're a beginner or an advanced skater, skinny jeans are not what you should wear on your ice-skating date. As an advanced skater, you'll want to maintain enough mobility to do a couple tricks and show off a little. As a beginner, you don't want anything making what's sure to be an adjustment process harder than it has to be.
Do wear loose jeans or pants that allow you your full range of motion without being so baggy that they catch wind or snag on your surroundings. Jeans are definitely more realistic for beginner skaters who aren't attempting complex maneuvers and tricks. And if you have room, wear a layer underneath for extra warmth and extra padding on the ice!
No Flash, Please!
So far, we've only mentioned what types of pants and leggings you should wear. So, naturally, you might be wondering whether or not you can wear a skirt or dress on your ice-skating date. The short answer is yes, but take a few tips into consideration:
We've said it before and we'll say it again: wear leggings. Not stockings. Stockings are typically sheer, so if your skirt flies up as you catch speed or when you fall, you'd still be flashing the rink! Wear thicker winter stockings or a pair of leggings, that way you're covered, warm, and no chance of flashing the wrong person. *wink wink*
Choose a sturdy fabric. Sheer or silk skirts tear easily. If you slip on the ice or catch yourself against the rink wall for a breather, you run the risk of tearing your clothes. So, pick a thicker fabric: a) because it's less likely to float and fly up and b) because it'll have a smaller chance of tearing.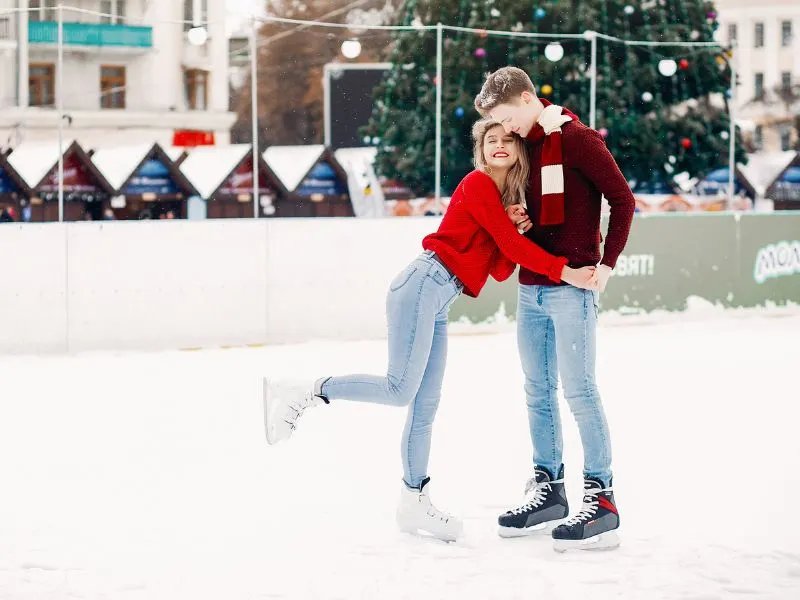 Debate Two: Is Thicker Really Better?
Of course, most of the time the answer to this question is heck yeah! But, when it comes to what kind of socks you should wear on your ice-skating date, the answer is maybe not.
Don't wear thick socks. Thick socks limit your ankle mobility inside the ice skate and make it harder for your feet to acclimate to the skate and the ice. Thicker socks can also make your feet sweat, and with ice and cold air all around you, your sweat will turn cold and thus have the opposite affect you were going for.
Do wear thin socks that come up past your ankle. Thin socks allow the nerve endings in your feet to have more contact with the skate. You can sense how the skate moves, how the blade bends, and – if you pay close enough attention – you can feel grooves in, and uneven parts of, the ice.
Plus, thinner socks allow your feet to breathe. They'll continue regulating your body heat and you won't slip off your skates and run the risk of stinking up a romantic time with sweaty feet!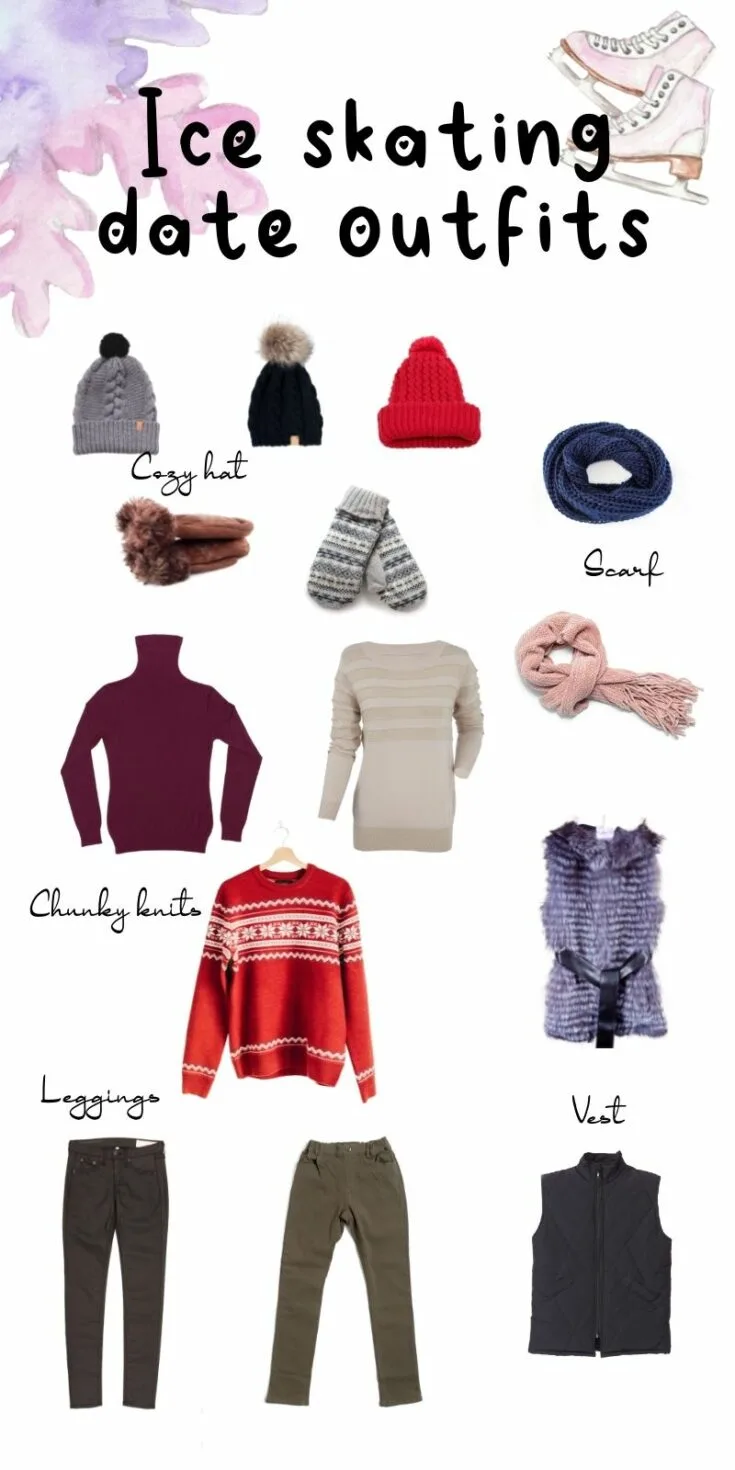 How to Look Cute for Your Ice-Skating Date
Now that we've gone over what to wear on an ice-skating date, we'll add a little sparkle with advice on how to take your ice-skating date outfits from functional to cute!
Wear leggings
They're a staple to most winter wardrobes. Black leggings are slimming, easy to move in, and they're great for layering under jeans or under a skirt, making them the perfect addition to your ice-skating date outfit.
Wear an outfit that makes you feel like your best self!
Put on something you're excited to wear, that gives you confidence. This is an ice-skating date after all.
Play with prints and patterns.
You can go all out with an ugly sweater or a unique knit pattern in a neutral tone. Wear socks with avocados (they're great conversation starters) or a polka dot neck warmer. Let your personality come through and keep you warm.
Plan for time off the ice.
You might want to stash a fresh pair of socks in your purse or make sure you have on an under-layer you don't mind showing off in the event you work up a sweat in the rink.
Who knows, you might be on your way to another activity (dinner, a movie, game night, etc.).
Make sure your outfit can transition with you and not hold you back from having a great time no matter where your ice-skating date takes you!
Ice Skating Date Outfits
Whether you're a competitive skater or just enjoy a leisurely skate with your sweetheart, there are a few things to keep in mind when dressing for your outing.
Here is some inspiration for putting together the perfect ice skating outfit:
Go Big With A Fur Vest
A statement piece like this cute vest (get a similar one on Amazon), is perfect for keeping you warm and trendy on your ice skating date.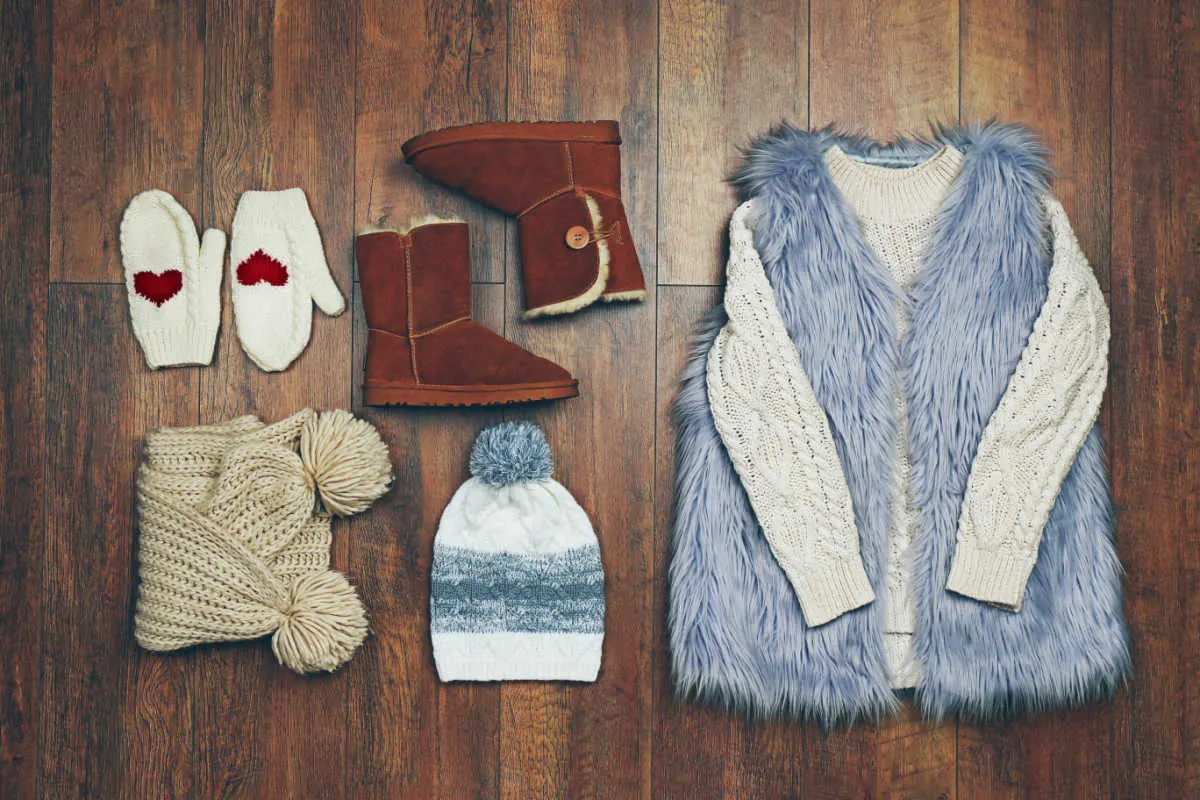 Be Fashionable With Fair Isle
Cozy sweaters in a traditional Fair Isle pattern will really make you stand out on the ice and are perfect for wearing this winter. Pair with a cozy trapper hat like this one and you have the perfect ice skating outfit idea.
Get A Quilted Vest
Padded vests like this one in the picture are timeless and always look good in the winter months. Plus they will keep you so warm!
Dress For The Occasion
If you are heading out on your ice skating date during the holidays, dress in a festive red that will look super cute and pop against the ice.