An ice skating date is the best!
There's something about being able to hold onto each other while gliding across the ice that makes for a super romantic date night. If you're looking for an easy and fun way to spice up your dating life, then ice skating is definitely the way to go. In this blog post, we will give you tips on how to make your ice skating date unforgettable. So get ready to lace up your skates and have some fun!
Coming up with fun and exciting date ideas can be tough. After all, there are only so many movie and dinner dates you can go on before things start to get boring.
And before long, there will be a permanent dent in the couch from all the time spent Netflix and chilling.
If you're in need of some fresh date ideas, then ice skating is the perfect activity to try out with your significant other. It's a unique and memorable date idea that is sure to get you both excited.
Plus, it's a great way to get active and enjoy the outdoors (even if it is cold!).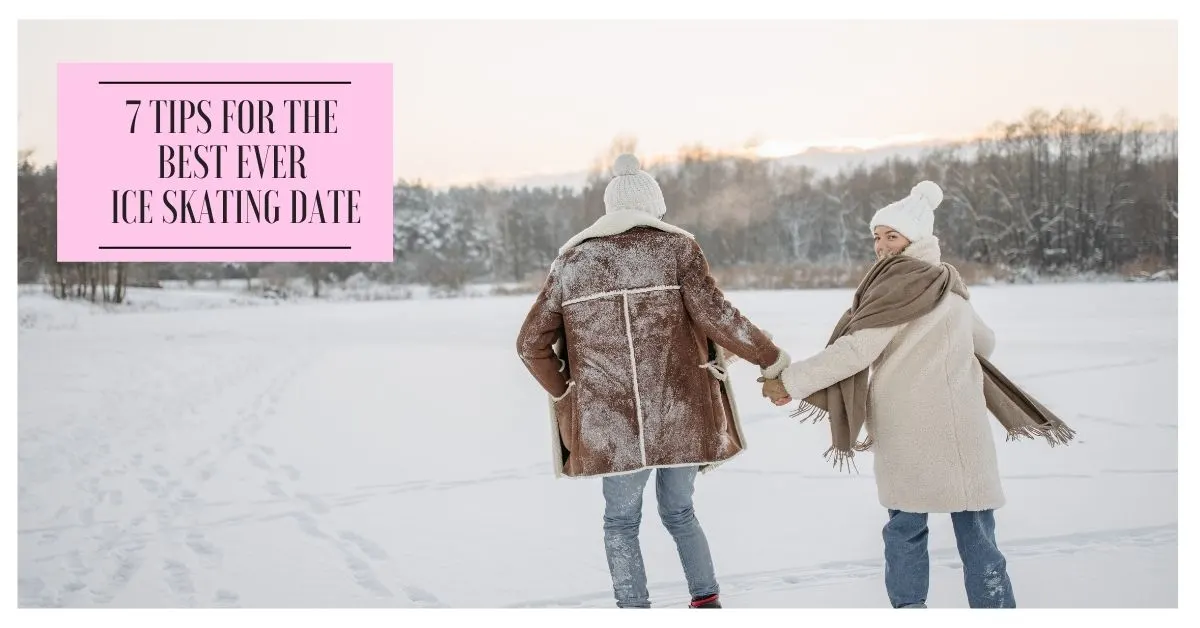 This post may contain affiliate links. Please read my Affiliate Disclosure for more information
MORE ICE SKATING FUN
25 Fun Ice Skating Pick Up Lines
100 Figure Skating Quotes To Inspire Any Skater
Is Ice Skating a Good Idea for a Date?
Absolutely! Ice skating is a great way to get active and enjoy some quality time together. It's also a perfect opportunity to cuddle up close and keep each other warm. Plus, ice skating is just plain fun!
One of the best things about ice skating is that it's a great activity for all levels. Whether you're a beginner or a pro, ice skating is a great way to get active and enjoy some quality time with your date. And if you happen to be a bit uncoordinated, don't worry! Falling down is all part of the ice skating experience. Just be sure to laugh it off and enjoy yourselves.
Where Can I Go Ice Skating?
There are plenty of ice skating rinks all across the country. Many cities have outdoor ice skating rinks which are open during the winter months. These make for a great date night option, especially if you're looking to save some money. Just be sure to dress warmly!
If you're looking for a more unique ice skating experience, there are also ice skating trails that are becoming increasingly popular. These trails are usually located in scenic areas, such as parks or forests. Ice skating through a beautiful winter wonderland is definitely a date night you'll never forget.
If you're looking to plan an ice skating date, check out your local ice rinks and see if they have a public skate time. They usually have skate rentals as well so you don't have to worry about bringing your own skates.
What to Wear on an Ice Skating Date
One of the most important things to consider when going on an ice skating date is what to wear. You want to make sure you're comfortable and warm, but you also want to look cute. Also, keep in mind that you might start off pretty cold outside or in an ice rink, but you'll warm up as you skate around. So if you're likely to overheat, wearing layers you can take off would be smart!
Here are some ice skating date outfit ideas:
How to Make an Ice Skating Date Fun

Now that you know what to wear and where to go ice skating, it's time to focus on making your date fun. One of the best things about ice skating is that it's a great opportunity to hold hands and be romantic. But if you're looking for something more than just holding hands, here are some ideas:
Play a game of ice skating chicken. Whoever falls first loses and has to buy the other person ice cream.
See who can skate the fastest. The loser has to buy the winner a hot chocolate.
Take turns teaching each other new tricks.
Have an ice-skating race. The loser has to buy the winner dinner.
Pick up some ice shavings and have a playful snowball fight.
Pull off to the side of the rink for some cuddling and kissing.
What to Do After an Ice Skating Date
After you've had your fun ice skating, you'll probably be pretty hungry. So why not head to a nearby restaurant or cafe for a bite to eat?
If you're looking for something sweet, ice cream would be the perfect post-skate treat. You can also warm up with a cup of hot chocolate, coffee, or tea and continue chatting and getting to know each other.
7 Tips for the Best Ice Skating Date Ever
Now that you know ice skating is a great idea for a date, here are some tips to make sure your ice skating date is unforgettable.
Plan ahead and buy your tickets in advance. This will ensure that you don't have to wait in line or worry about the ice skating rink being sold out.
Dress warmly and in layers so you can adjust if you start to feel too hot.
Be sure to eat before or bring snacks with you so you don't get hungry while skating.
Make sure to bring a thick pair of socks. Wool hiking socks are a great option to prevent blisters and keep your feet warm.
If you're renting skates, get there early so you have a better selection and don't have to wait in line.
If you're going to a public ice skating session, try to go during an off-peak time so it's not too crowded.
Most importantly, have fun and enjoy each other's company! Ice skating is a great way to get to know someone and have a romantic time. So make the most of it and enjoy your ice skating date!
Things to Avoid on an Ice Skating Date
There are a few things you'll want to avoid on your ice skating date to make sure everything goes smoothly.
First, don't drink too much before or during your date. Alcohol can make you more likely to fall and get injured. It's also important to avoid ice skating near people who are professional skaters.
Ice hockey players and figure skaters might not see you and could accidentally hit you with their puck or stick, or they might be practicing jumps and lifts that could injure you if you're in the way.
In indoor rinks, you can usually find them in the very center of the rink, away from the outer edge where people are skating around more slowly.
So just be aware of your surroundings and try to avoid ice skating in crowded areas. Finally, try to avoid skating near the edge of the rink where people are getting on and off. It can be dangerous and you don't want to get hit by someone who's not paying attention.
If you're looking for a fun and unique date night idea, ice skating is definitely the way to go. It's romantic, playful, and can be quite a workout too. So put on your skates and enjoy a date night ice skating!
Do you have any ice skating date tips? Share them in the comments below!