It's time for your first figure skating competition! Whether you are the skater or you are the anxious parent, this is one of the most exciting days in a skater's career.
Prepping for the competition will help keep the nerves at bay and make sure that everything goes smoothly.
Here are some tips for prepping for that all important first skating competition:
(Make sure to download our free figure skating competition checklist too!).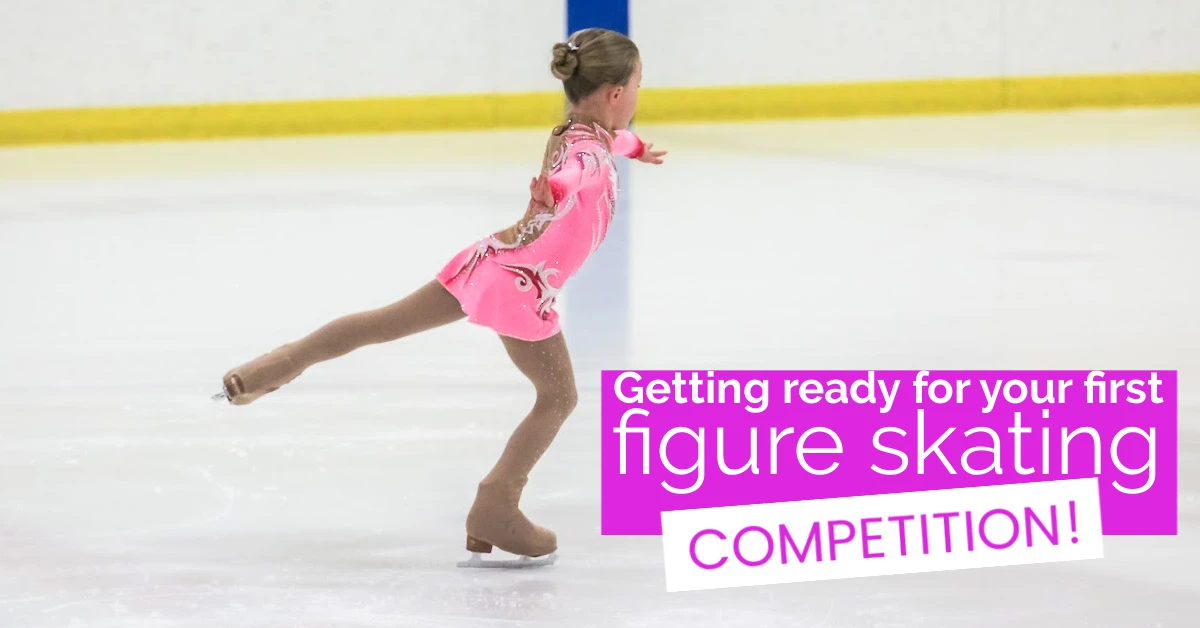 This post may contain affiliate links. Please read my Affiliate Disclosure for more information.
RELATED POSTS
50 Best Ice Skating Movies Of All Time
What To Wear To Your First Figure Skating Competition
You don't need to break the bank on a costume that costs hundreds of dollars, especially if your child is little. Comfort and warmth can sometimes be more important in the early days.
You can get really cute Polartec skating dresses by brands such as Mondor.
You can buy second hand skating dresses and pants for boys at skating stores and online.
Look for figure skating buy/sell groups on Facebook as you can often get like-new dresses for a fraction of the price you would pay in a store.
Another place I have had luck with dresses is AliExpress although the material is pretty thin.
When in doubt, the rule of thumb is Keep it Simple!
Most skating federations have some rules regarding attire, and failure to comply may result in deductions.
Here are some of the most common rules:
Men must wear full-length trousers.
The use of skin tone "illusion" fabric must not comprise more than 50% of the upper body, and must be tasteful.
Girls can wear pants or unitards although most still wear dresses.
Don't forget a warm-up jacket too and sneakers.
What About Skating Tights?
Skating tights are usually beige and are thicker than nylons. They should fit well and be in good condition; no pilling or rips. Packing an extra pair in case of an unexpected tear is a good idea!
There are two different types of tights that you can get, the type that cover the whole skate and regular tights that go round the foot just like nylons.
Hair and Makeup For Your Skating Competition
You can style your hair in whatever style you want but you want to make sure it is well secured to ensure it won't fall out part way through a program.
Putting longer hair in a bun, braid or a neat and tidy ponytail are good choices and don't distract from the performance.
You can get scrunchies that match your skating dress for even more style.
Always secure wispy hair with gel or hairspray.
What happens when you arrive at the rink
On competition day, make sure to have a good breakfast and a great night's sleep. Double check your figure skating competition checklist before you leave the house.
1. Arrive at the competition 1 hour prior to your event time.
2. Register yourself at the front desk – they will also take your music (CDs)
3. Find your dressing room
4. Find the ice captain (person with the clipboard at the ice surface) and tell them you are there (you will need to tell them what group you are in and they will check your name off to know that you have arrived).
5. Find your coach and then get settled into your dressing room. Keep your skates with you (take them out of your bag – leave your bag in the dressing room. Your coach will be with you throughout all of the following steps – however, there may be times they have a skater on another ice surface also, so they may need to run back and forth.
6. Find the area designated for the off-ice warm-up and practice your off-ice routine.
7. When done, go to the ice surface and "finger point" your routine. See where the judges are sitting and take note.
8. 10 to 15 minutes before your group is to go on the ice, get your skates on (go to the bathroom now if needed).
9. Before leaving the dressing room, take time to close your eyes and visualize yourself skating your full program.
10. Move to ice level with the rest of your group to prepare to step on the ice for the on-ice warm-up (mentally visualize your plan for the warm-up).
11. When it is your turn to skate, skate with the ultimate goal of achieving your own personal best (PB).
12. When done, assess your performance with your coach. Your coach will likely now have to leave you to move to the next skater he or she has competing to repeat these steps with him or her. Wait for your results or your report card depending on the competition.
13. Go to your dressing room and take off skates – gather all of your belongings and take them with you.
14. Remember to stop by the front desk as you leave to collect your music.
You just completed your first competition and should be very proud of yourself!
MORE FUN FIGURE SKATING POSTS
50 Best Ice Skating Movies Of All Time
Figure Skating Coloring Pages {Free Printable PDF)