Are you looking for skating coach gifts this season? Look no further than this awesome list of great ways to says "Thank you!".
Ice skating coaches are some of the most important people in a skater's life. They help skaters to learn new skills, improve their technique, and most importantly, they provide support and encouragement. A coach is also a great role model for skaters.
When it comes to finding the perfect gift for your ice skating coach, there are a few things you should keep in mind.
First, consider what type of coach they are. Do they prefer heartfelt gifts or ones that are more practical?
Second, think about what they might need to do their job better – is there a practical gift you can give them?
On the other hand, is there something sentimental that would show how much you appreciate all their hard work with you?
Whether you are looking for Christmas gifts or an end of season gift idea, we have it all for you!
Below you will find more 15 amazing figure skating coach gift ideas that you can get online for that extra special coach in your life!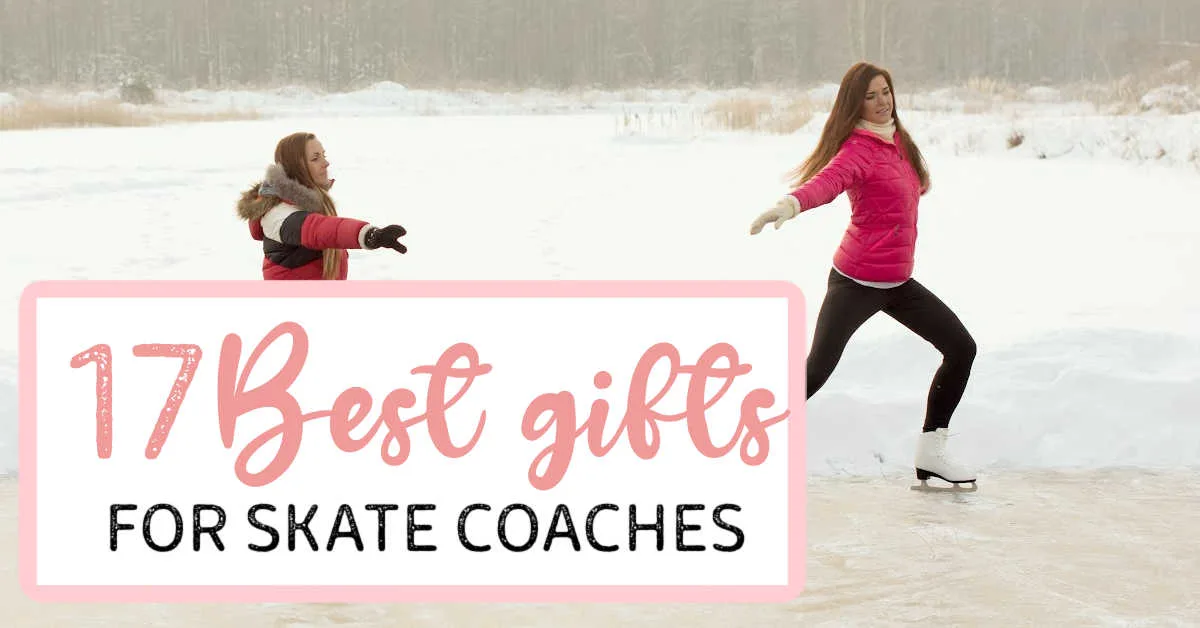 This post may contain affiliate links. Please read my Affiliate Disclosure for more information
MORE ICE SKATING TIPS
21 Unique Ice Skating Birthday Party Favors
30 Amazing Ice Skating Cake Ideas
The Best Skating Coach Gifts
Before we delve into all the great gift ideas, let's look at some easy last minute gifts you can give your coach in a pinch.
Gift Cards
Yes, we know it is boring but if you are in a pinch, a gift certificate to Starbucks or a local coffee shop will likely be well-received. At least at my rink, all the coaches have a cup of coffee on the go at all times so this is sure to be a well-loved and appreciated present.
Other ideas include an Amazon gift card or a gift card to a shop that sells skate-related items.
Hand Warmers

This packet contains toe warmers, hand warmers and body warmers – all perfect for skating coaches who spend all day at a cold rink.
This is a great gift idea if you have several coaches to buy for.
Ice Skate Coach Gifts: FAQs
How Much Should You Spend On Skating Coach Gifts?
You don't need to break the bank to show your skate coach that you care! A heartfelt thank you letter and framed photo of coach and skater is always appreciated but of course, a restaurant gift card is nice as well, even if you don't spend too much money.
Although some people suggest if you give cash, it should be equivalent to a week's worth or lessons – giving a gift or gift card may work out cheaper.
Many people are struggling to come up with the cost of skating as it has got more and more expensive, and gift giving is and should be rather personal.What do you feel right about, and what can you afford?
Should You Give A Cash Gift?
While gift cards are always an excellent go to for coaches, teachers and other helpers, cash can sometimes be a bit awkward.
Gift cards can be used to purchase gifts or items they need. Other things are nice, but they don't always want to or have space to keep them all.
>