Malls with ice skating rinks are a great place to take the family for an afternoon of fun. They are also a great place to hold a birthday party or other special event.
If you are looking to spend a rainy day while on vacation or are looking for somewhere close to home, shopping centres with an ice rink are a great way to spend a day with family or friends.
They offer a variety of activities for all ages, and there is something for everyone to enjoy.
You can shop, eat, skate, and people watch all in one place.
It is the perfect way to spend a day during the winter months.
In this post, we will show you the top malls with ice skating rinks worldwide. All these malls host public skate sessions that means you can enjoy an afternoon of skating fun with the whole family.
This post may contain affiliate links. Please read my Affiliate Disclosure for more information
MORE ICE SKATING FUN
How to Teach a Child to Ice Skate: A Step-by-Step Guide
30 Amazing Ice Skating Cake Ideas
The Best Malls With Ice Skating Rinks
If you fancy visiting a shopping center and getting in some exercise too, you are in luck! There are more and more malls that have skating rinks offering public skating hours and even skating lessons for visitors. Below you will find our top picks for an indoor ice rink that is open year-round.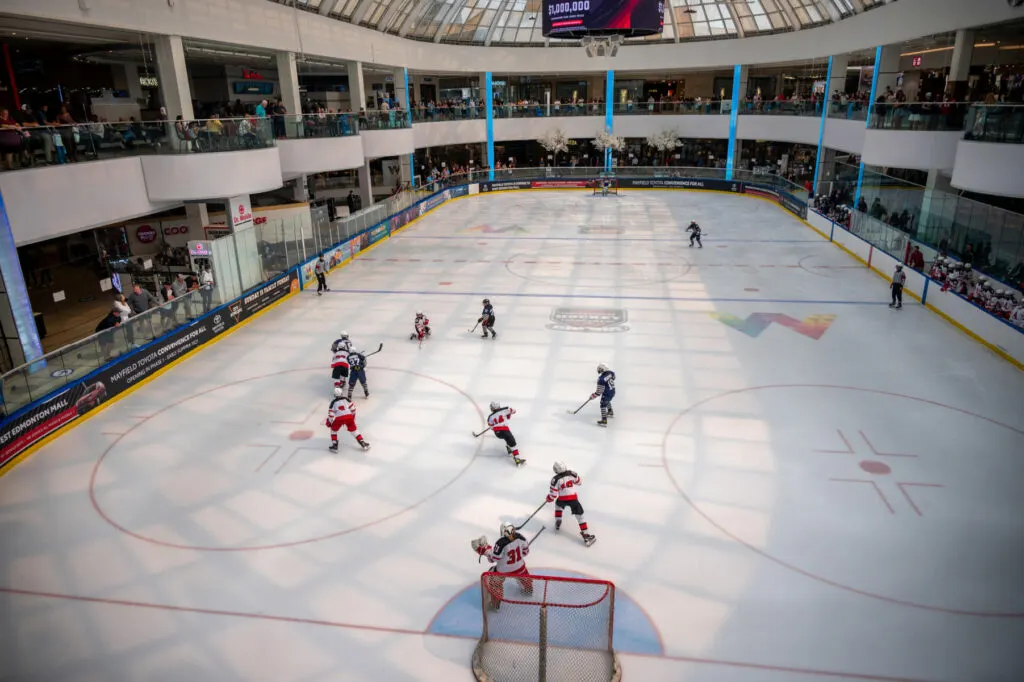 The Ice Palace at the WEM is right in the heart of the shopping mall and a fantastic place to watch figure skaters practice their moves while you shop. And of course, you can also ice skate too!
This real ice rink is located right across from Macys and is the perfect place to visit during the holiday season or any time of year. They offer public ice, group lessons and even freestyle figure skating sessions so that everyone can enjoy the ice.
Check out their special events too! They have lots of fun for all the family.
This outlet mall is located in the Asian side of Turkey , Kozyatagi Istanbul . It has many well known brands like Tommy, CK, USPA etc and has a variety of options in its food court as well as a 2000 square foot skating rink that regularly hosts special events and shows.
While Michigan boasts of many outdoor ice rinks for the winter months, the Lakeside shopping mall rink is one of the most unique ice skating rinks in the state.
Bring your family and friends to Lakeside Mall to skate on the 2,000 square feet. synthetic ice rink located near Center Court.
SM Skating is the only Ice Skating Rink in the Philippines and is the perfect place to cool down in the warmer months. They offer classes in ice hockey, skating and speed skating too!
Ice at the Galleria is a stunning year round indoor ice rink located at the Houston Galleria in the Center Food Court. While skating if you look up, you can see the fabulous views of the Galleria's multi-levels above.
This indoor rink is perfect for year round skating and offers public Ice Skating, Learn to Skate Classes, Broomball, Group Events, Birthday Parties, Camps and More!
Once skaters have purchased the admission and skate rental tickets, you're welcome to skate as long as you like during the public session.
Dubai Mall, United Arab Emirates
Escape the heat in Dubai and head to this Olympic-sized ice rink for a skate while you shop! The open skate times for this rink awesome – until 10pm every night and until midnight on weekends! It is the place to be on Friday nights and a center of Dubai nightlife.
The best ice in town! From summer camp to an opportunity to try hockey for free, there is something for everyone at this fun ice rink in the middle of the country.
Heading to the Middle East? Check out the public skating sessions at the Al Ain Mall! Its the locals' favorite place to cool down from the Kuwaiti heat.
As well as public sessions at this rink, you can also host an ice skating party or take part in one of their hockey programs. It is one of the top places in Southern California for indoor ice skating at a mall.
From the day it opened in 1982 when Olympic Champion Dorthy Hamill performer for the community, The Galleria Dallas ice skating rink has always been a great spot to skate and have fun. During the holidays, a huge Christmas tree is place in the center of the rink and you can even attend the tree lighting ceremony.
For some reason Galleria is a super popular name for a mall with an ice rink! This rink in South Africa was converted into real ice back in 2010 and is the perfect place to learn to skate while you shop. There are even free skating lessons offered to schools every week!