Ice skating is a fun winter sport and a great activity for a birthday party. An ice skating birthday party is a fun idea that gets everyone active and it is different from the regular indoor play places.
In this post we will look at some cute and creative ice skating party ideas so you can throw the best event ever for your child's next birthday party!
Here's what we will cover:
Party Location
Ice skating party theme ideas
Invitations
Food and drink
Games
Party Favors
This post may contain affiliate links. Please read my Disclosure for more information
MORE ICE SKATING PARTY POSTS
21 Unique Ice Skating Birthday Party Favors
Ice Skating Birthday Party Invitations Free Printable
How To Throw The Perfect Ice Skating Party
No one ever said that throwing birthday parties was easy, but with a little bit of organization and some advance planning, it can be a breeze and so much fun. Here are some tips to help you throw a cool party.
Location
First, decide where you are going to throw the party. The great thing about an ice skating party is that you can host it year around. In the summer you will want to look at the indoor rinks in your area while in the winter months, you may even be able to skate outdoors.
You will want to consider whether you are going to book a private ice rink or use a public skating session. I have hosted ice skating parties on both types of rink and they have their pros and cons. A third option be to host your skate party at a rink in your own backyard. This will be free of course!
The first thing to consider is the public skating times in your local rink. If they work out, this may be the most budget-friendly option for holding your ice skating party.
Here are some things to ask any place before you put down a non-refundable deposit:
How much is the ice rental?
In general, renting on a public session will be cheaper but much busier. You may have to pay per person for the ice.
Check with the front desk if they will offer you a group rate for your party date. This can make it easier than paying for each guest separately on the night of the party. Make sure to also ask if there are minimum charges for a group in case you don't have a lot of people show.
Private rinks may offer different birthday party packages much like a regular play place so they may make your party planning easier.
Is there a party room?
You'll want to have a place where you can serve birthday cake and food at the end of the ice time.
Even though you are going to spend the party on the ice, you will need a room to lay out the food and for everyone to gather afterwards so the birthday child can open their gifts.
if there is a private room, ask if there is a party coordinator who will welcome guests and show them where to drop their gifts and get changed for the ice. Also make sure to find out how much room time you will get.
Am I allowed to bring in outside food?
Not every arena will let you bring in food from other establishments so make sure to check before making your booking.
Are there any skate monitors?
Skate monitors are kind of like lifeguards for the ice rink. They make sure that people are skating safely and adhering to the rules of the rink. Most city-run rinks have monitors for insurance purposes.
Although you may not care too much about a skate monitor being on the ice, at a party, they will act as a "party captain" and can help keep your party guests in check if they get unruly, without you, the host being "the bad guy".
Are skate rentals available?
Skate rentals are another thing to really bear in mind. I hosted an ice skating party at a private ice rink that didn't have a skate rental store. As the party was full of 5-6 year olds, a lot of them needed skate aids while many of the parents needed skates.
My solution was to buy second hand skates from thrift stores and Facebook marketplace so that everyone had a pair. I then sold them again afterwards.
If there are rental skates available, check out the rental cost and make sure they will have enough skates for your whole party.
Skate aids were more difficult but in a pinch you can use large Home Depot Buckets upside down for little kids.
Ice Skating Party Themes
While your party might be as simple as "ice skating", you can also choose a few fun ideas if you want
Here are some fun themes for your ice skating party:
Winter Wonderland
Disney Frozen
Hockey
Olympic Skating
Penguins and Polar Bears
Ice Skating Party Invitations
If you are hosting an ice skating party, there are a lot of fun ideas for invitations you can use. You can go digital or you can use paper goods the old fashioned way.
Here are some of the best options:
Ice Skating Bears
Stick to your budget by using my free printable ice skating birthday party invitations. Get the instant download here. These cute bear invitations are great for a kids ice skating party.
Ice Show Ticket
You can turn your invitation into a ticket and invite all your guests to an "ice show". This is a really fun way to set the scene for your ice skating party. The version above is available on Etsy.
Skate On Over
Choose invitations in the color of your party theme to keep everything looking the same. Many people choose teal or blue for an ice skating party but purple is a great choice too. Grab these custom invites on Etsy.
In your invitations, don't forget to include all the details about the party. Be sure to include the date, time, and location of the event. You can also include information about the RSVP deadlines and whether or not guests need to bring their own skates.
Food and drink: What to serve at your party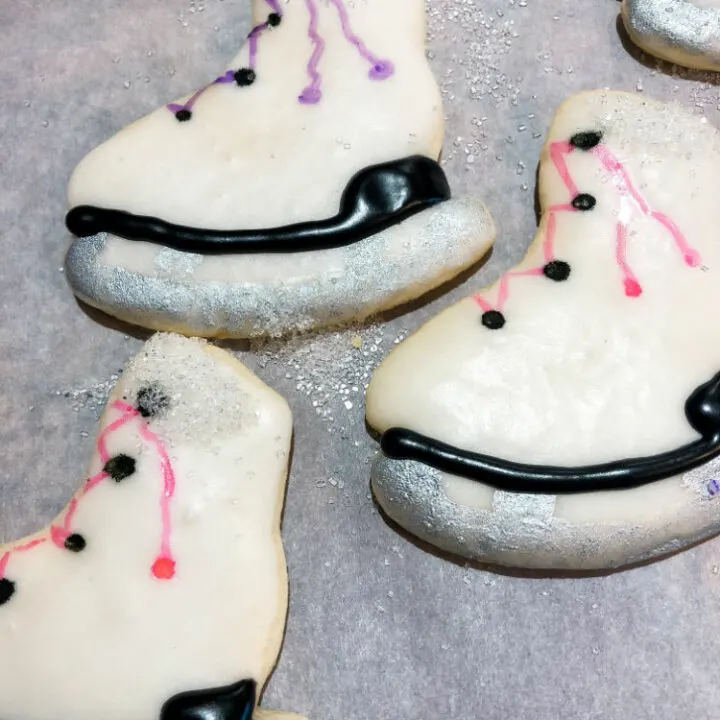 A hot chocolate bar with different toppings and ice skate cookies are always a hit at winter parties, but you can also serve additional food like pizza, popcorn, or other snacks that fit with the theme. Ice cream or snow cones are another fun idea.
A hot dog in a bun is another super easy way to feed your guests.
If you have an ice skate cookie cutter, you could make sandwiches in the shape of skates. Snowflakes are another great shape for cookies.
If you are hosting your party in your own rink and you have a fire pit, s'mores are the obvious choice along with a hot cocoa bar.
As for treats and cakes, I have a huge list of fun foods you can serve at your skating party here.
Decorations: How to create a festive atmosphere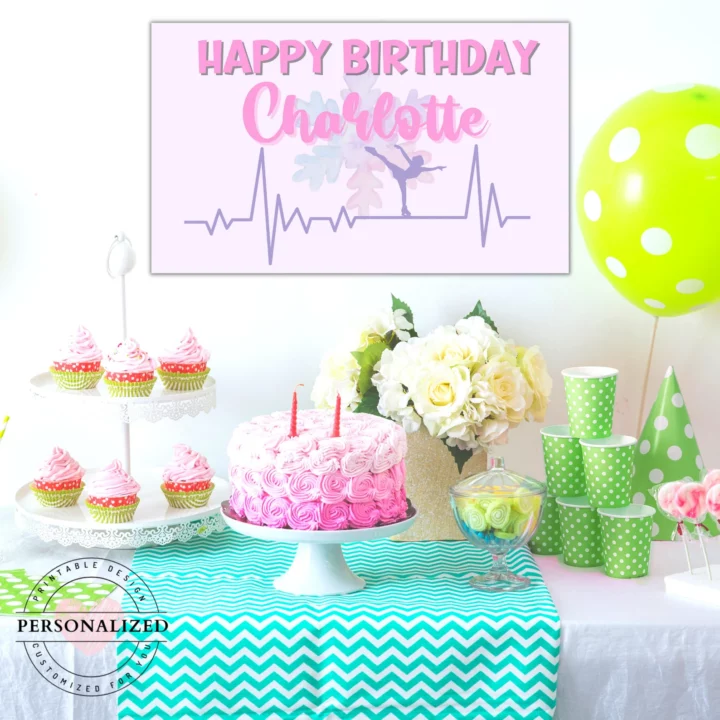 If you are hosting your party close to the holidays, you can pick up some ice skating themed decorations such as snowflakes and icicles. The banner above is available for a great price on Etsy.
Another idea is to look for Disney Frozen themed decor as that is easy to turn into an ice skating party.
If not, consider some of these easy decorations:
Paper snowflakes – this is the easiest way to make your own decorations for an ice skating party.
Pairs of vintage skates
An ice sculpture!
Cutouts of ice skates sprinkled with silver glitter
Games and activities: Ideas for keeping your guests entertained
If your guests will be on the ice for most of your party, you may not need to do more than provide the ice but if you want to entertain them, there are plenty of ice skating party games you can do together.
Off the ice, you can consider playing the following fun games:
Pin the nose on the snowman
Musical Snowflakes (cute out large snowflakes from card stock and then play musical chairs but with the snowflakes instead of chairs).
Freeze Dance
Ice Skate Party Favors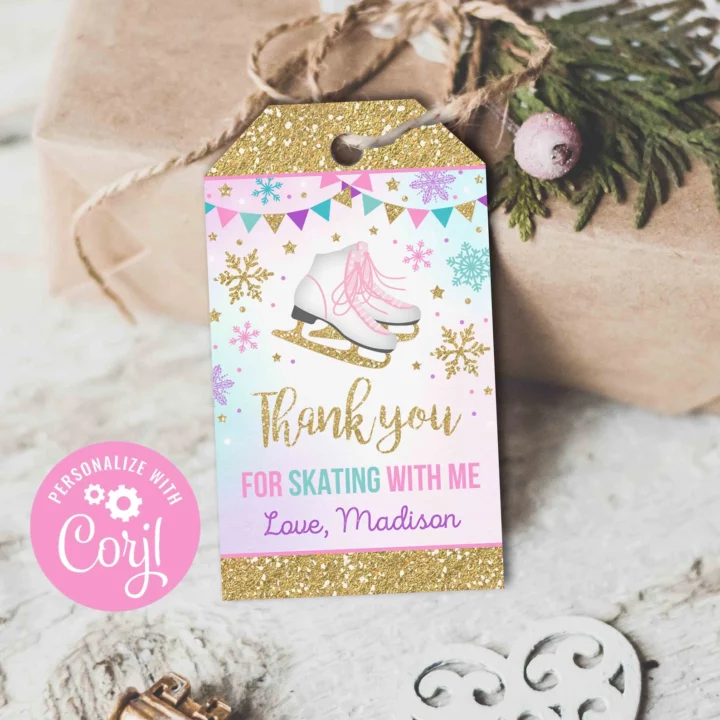 You'll want to end your party on a high note and give your gifts a cute ice skating birthday party favor to go home with. (Grab the cute personalized tags above here).
Here are a few ideas to consider:
A pass for public skating sessions in the future – this is a great favor idea and you can probably buy a bundle for a discount at the time of booking your party.
A mason jar with winter wonderland themed slime
Cute mittens – these are a practical favor that everyone can use
Here are 21 more ice skating party favors ideas.
Ice Skating Party FAQs
How long should the skating session be for an ice skating party?
This will depend on your guests. Little kids only really need a half hour of ice time on public ice. If you are hosting a figure skating or hockey party on your own pad, an hour is probably perfect.
When you hear the words "ice skating party," what comes to mind? Most likely, you're picturing a festive event where guests come dressed in their winter best. While there's no one right way to dress for a skating party, there are some general guidelines to follow.
Here are a few tips on what to wear to an ice skating party.
First and foremost, it's important to dress for the weather. If it's cold outside, dress warmly. Layers are always a good idea, as they allow you to adjust your temperature as needed.
Long pants such as leggings are also a safe choice, as is a sweater or jacket. Get more tips on what to wear ice skating here.